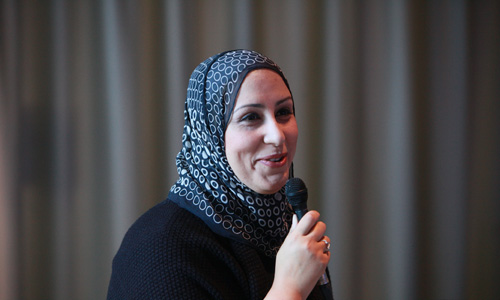 In an effort to highlight the importance of female leadership across the nation, Egyptians joined women around the world in the Vital Voices Global Mentorship Walk on Saturday, 17 November.
The walk event began in 2008 to bring mentors and mentees together and create an atmosphere in which future female leaders could meet women who will help them develop personally and professionally.
Amany Eid and Manal Saad, both alumni of Fortune magazine's list of the 500 most powerful women, met at a mentoring program. Seeing the effect mentoring had on their professional lives, they organized the walk to give mentoring in Egypt more structure.
"This is a way to inspire the young female generation," Saad says.
Thirty mentors were chosen out of 77 applicants and 40 mentees out of 125 applicants. At 9 am Saturday, only about 30 women met at the beginning of Abul Feda Street in Zamalek to take the symbolic walk.
Many women were worried about walking in the streets of Cairo. Those who did walk were accompanied by members of Imprint Movement, an Egyptian group that works to combat sexual harassment.
When the walk ended at El Sawy Culture wheel, several successful women gave speeches. Eid spoke of finding her passion in life and pursuing it after stopping at crossroads where she was to choose between unemployment or a job she had no passion for. She chose passion.
Dr. Mervat AbdelNasser, psychiatrist and founder of New Hermopolis, spoke of her reason for getting involved.
"I was born to find myself in love with Egypt," she says, "as a child I was always looking for something to do to help develop the community."
This love is manifested in her NGO, a foundation that helps the underprivileged develop through education and training with a focus on the role of heritage in building society.
Dalia El Behairy, former Ms. Egypt, in a segment named 'Dare to be Different,' spoke of appearances and inner beauty.
"Don't let your looks cage you in a certain frame, its all about your personality and how you pursue life, be proud of your personality, it's your true asset not your looks."
The event was also dedicated to networking and various organizations presented training opportunities available for local women.
Eid says the event is a platform to jumpstart several other free training and development opportunities for women. The US Embassy in Cairo has volunteered to host two such trainings on 27 November and 23 December.
"The over 125 applications that we received before the event from mentees shows that there are many women who want to develop and are in need of these sessions and opportunities," says Eid.
The mentoring platforms and training also allow mentors to reap benefits for their own development while giving back to the community.
Riham Helmy, founder and partner of Mashura Capacity Building, a company built on training women and young people for the workplace or to start their own businesses, says, "mentoring benefits are mutual, while mentees benefit from a mentor's experience and network, mentors themselves expand their own network and learn from the younger generation."
Helmy is participating in Vital Voices as a mentor. Although 52 percent of college graduates in Egypt are women, Helmy says women are under-trained and often passed over for jobs when there is a male applicant.
Saad and Helmy believe empowering female leaders is an important tool in a society's development.
"Women are one of the gates that open economic potential," Helmy says.
When presenting her many programs to help with women in middle-management development, many major companies resisted Helmy's initiatives, which started with mentorship, "Are you trying to start a women's revolution?," she says she was asked by employers.
Women are met with strong resistance when trying to develop professionally, she says, either for lack of resources and programs in their own employment circles, or for lack of financial capabilities.
The Vital Voices walk is a non-profit forum that gives women those very opportunities.
According to Helmy, who has been involved in mentoring relationships for over 20 years, mentoring has ground rules and objectives both discussed and agreed upon at the beginning of the relationship. Some mentor-mentee relationships last a lifetime while others focus on a specific goal and end there.
Eid wrote on the event's Facebook page, "This is a journey for women who are leaders today and women who choose to be leaders tomorrow … a journey to be taken by women together … and they help each other, to unleash the power within."