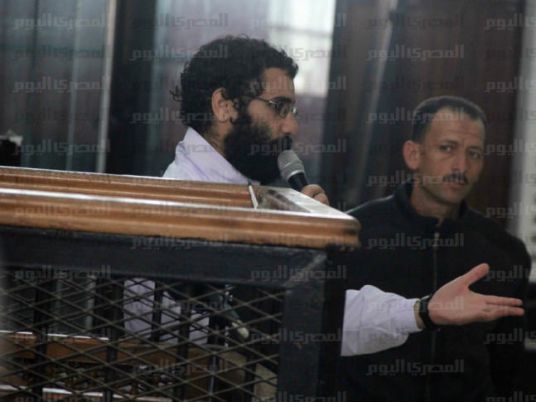 The verdict date for renowned activist Alaa Abdel Fattah and 24 others who face charges of illegal assembly has been set on Monday to February 23.
Initially, all defendants were sentenced to 15 years in prison in June, 2014 for illegal assembly, among other charges. A court ordered the defendants' retrial shortly afterwards.
Abdel Fattah was arrested from his home in November 2013 for illegal assembly, blocking roads, attacking a police officer and stealing his radio.
The other defendants were arrested after the authorities dispersed a demonstration denouncing a constitutional article which permits military trials for civilians outside the Shura Council on November 26, 2013.
The trial eventually came to be known as the "Shura Council" trial.
The 25 defendants were initially charged with violating the protest law, attacking and resisting the authorities among other crimes.
Former interim President Adli Mansour issued the protest law in November 2013 to regulate peaceful assembly. The law has long been the epicentre of wide criticism by domestic and international human rights organisations which say it violates international standards for peaceful protests.