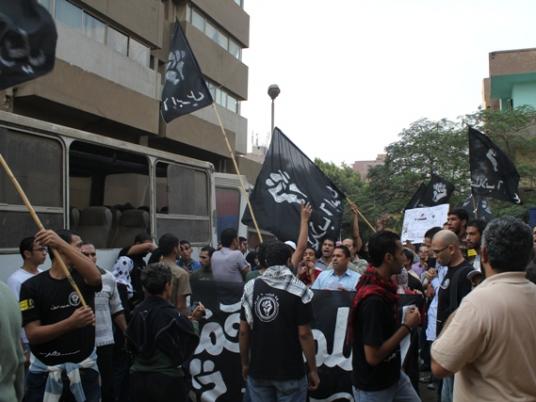 Security forces arrested four April 6 Youth Movement members on Friday during a protest staged in front of Interior Minister Mohamed Ibrahim's home in Nasr City.
Security officials claim that dozens of protesters flocked to the minister's house starting at midnight, some with Molotov cocktails. Early in the morning, the protesters also raised underwear and chanted that the ministry was a "slut."
A source from the Cairo security department said the troops fired tear gas to disperse the protesters, but April 6 accused security of firing bird shot as well, injuring some of their members.
Mourad Ali, the Freedom and Justice Party's media advisor, described the protest as an example of the "moral collapse of the nation," and warned that the sancitity of private homes must be preserved.
He posted a statement on the FJP Facebook page that the April 6 Youth needed to rethink how they presented themselves.
"What they did by raising underwear in front of the interior minister's house is [a sign of] moral collapse that is even worse than what they did last week, attempting to insult the president by scattering Egyptian clover in front of his house," Ali said. The advisor was referring to an incident in which the activists spread clover plants across President Mohamed Morsy's yard, a symbolic suggestion that he was an animal that needed common livestock feed.
April 6 and the Muslim Brotherhood had both been the main opposition against former President Hosni Mubarak for decades, and never compromised their ethics during that period, Ali claimed.
Edited translation from Al-Masry Al-Youm