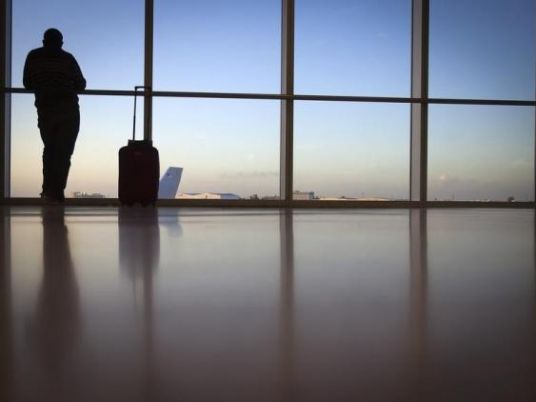 The UK government has announced an extensive carry-on ban on electronic devices on inbound flights from Egypt and another five countries, following a similar move by the United States earlier this week.
The ban on phones, laptops and tablets larger than 16.0cm x 9.3cm x 1.5cm applies to all direct passenger flights from Egypt, Turkey, Lebanon, Jordan, Tunisia and Saudi Arabia.
"Direct flights to the UK from these destinations continue to operate to the UK subject to these new measures being in place. We think these steps are necessary and proportionate to allow passengers to travel safely," the UK government said in a statement on Wednesday.
The transport secretary, Chris Grayling, said in a statement that the UK had been in close touch with the US to understand their approach.
"We understand the frustration that these measures may cause and we are working with the aviation industry to minimize any impact," he said in a written statement to parliament announcing the change. "Our top priority will always be to maintain the safety of British nationals."
Earlier this week, the US administration also banned airline passengers from eight Middle Eastern and North African, including Egypt, from carrying on large electronic devices.
According to The Independent, no American carriers are impacted by the ban, which involves any device larger than a mobile phone.
The US ban will apply to direct flights to the US from 10 international airports serving the cities of Cairo, Amman, Kuwait, Casablanca, Doha, Riyadh, Jeddah, Istanbul, Abu Dhabi and Dubai.
Aviation security experts suggest that the nature of the security measure was driven by a possible terrorist attack, and that the reason why the electronic devices are prohibited only as a carry-on is because most major airports in the United States have a computer tomography for checked-in baggage, which creates a detailed picture of a bag's contents. They can warn an operator of potentially dangerous material, and may provide better security than the X-ray machines used to screen passengers and their carry-on bags.
The policy is expected to be announced next Tuesday where the full details of the ban will be disclosed.
EgyptAir, Egypt's flag carrier, is included in the US electronic ban decision, along with Royal Jordanian, Turkish airlines, Saudi Arabian Airlines, Emirates, Etihad Airways (Emirati airline), Royal Air Maroc, Kuwait Airways and Qatar Airways. The ban is reportedly set to continue for seven months. Electronic devices larger than a cell phone will be checked with the baggage and none to be allowed on cabins.
EgyptAir said in a statement on Tuesday that it would apply the ban on passengers travelling to the US starting Friday.
Passengers on board aren't allowed "take their laptops, cameras, tablets, e-readers, portable DVD players, electronic games units, travel printers, and scanners on board airplanes, and instead must put them in their luggage, upon the instructions of the American transportation department," the statement read.