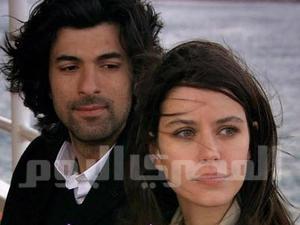 It's 8 pm and most Egyptian women are glued to their TV screens to see how Kerim will win Fatma's heart. "Fatmagulun Sucu Ne," a Turkish soap opera currently on air, is part of a long line of Turkish productions that have taken the Egyptian female audience by storm.
Saudi channel MBC4 introduced the Arab audience, Egyptians in particular, to Turkish soaps in 2008 when it aired "Gumus." According to Gulf News, 85 million viewers in the Middle East and North Africa, 50 million of whom were female, watched the last two episodes.
Mohannad, a character in the series, gained unprecedented admiration among Egyptian women, heightened by his role in "Aşk-ı Memnu" (Forbidden Love), which ranked tenth in the most-viewed TV series in Egypt last year. This love for Mohannad got a mention in the 2009 Egyptian film "Teer Enta." One of Donia Samir Ghanem's characters is caught by her husband, played by Ahmed Mekky, smuggling pillows bearing pictures of Mohannad out of the house when she leaves him.
The trend raises a pressing query: Why do Egyptian women fancy Turkish productions?
"These series reflect certain ethics and a lifestyle that Egypt lived in the past," says Farida Abdallah, a retired mother of two, nostalgically. For her, watching them is an act of reminiscence in which she remembers the old family values of her childhood and youth.
Abdallah also says her hate for the vulgarity of Egyptian TV productions made her resort to Turkish ones. "The lovely outdoor shooting sets, the soundtracks, the storyline and the good acting are all reasons behind the success of these productions," she says.
Injy Maher, a young Egyptian mother, got hooked on the fad a year ago through the word of mouth. "These soaps represent a world with a new, enthralling culture all wrapped in a well-done production scheme," she explains.
The fad is not restricted to a certain class or age group. "My mother watches the episodes and the reruns to analyze all the happenings," says Heba Mahmoud, 29, who works in advertising.
According to the news website Emirates 24/7, a Turkish soap opera is being blamed for family disputes and an increased divorce rate in the UAE. A similar idea is gaining ground among religious scholars in Egypt.
"I listened to a radio interview with an Islamic scholar who forbids watching Turkish soaps operas," says Amira Elhamy, 29, a masters student at the American Uuniversity in Cairo. The sheikh said they allow women to compare between their husbands and characters like Mohannad, which may lead to divorce.
Maher claims that Turkish men, as represented in soaps, are more calm, composed, romantic and compassionate than their Egyptian counterparts.
Merale Nagi, a newlywed, almost postponed her wedding to watch the last few episodes of "Forbidden Love." "Luckily, my friends brought me the remaining episodes on a flash memory and I was able to watch them before the honeymoon," says Nagi. "They [Turkish people] are like us in a way that makes them familiar to the viewer, but the productions portray a much more appealing lifestyle than most Egyptian women aspire to."
Nagi believes that fact that most characters are Muslim is also a plus. "They are liberal and decent Muslims which is a rare combo in today's international media," explains Nagi. She says that these productions are a breath of fresh air in the context of the boring and weak Egyptian TV series.
Some people are so fascinated they watch soaps on Turkish channels or online before they are aired on cable. "I finished our internet package at home," says Nagi, laughing.
These productions have been trending for the last five years among various social and age groups, but ccording to Gulf News, their popularity has increased even more since the Arab uprisings began. The series provide a comfort zone away from the harshness of reality, bring back long-forgotten morals, and revive the beauty of life that the viewers are aspiring toward.