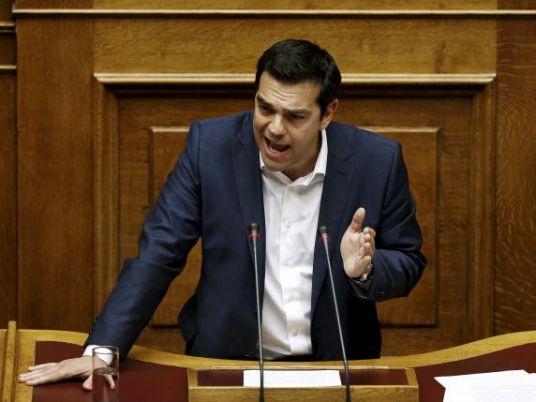 The Greek government appears likely to call a confidence vote following a rebellion among lawmakers from the ruling Syriza party over the country's new bailout deal, senior ministers said on Monday.
Energy Minister Panos Skourletis described such a parliamentary vote as "self-evident" following Friday's rebellion when almost a third of Syriza deputies abstained or voted against the agreement.
With Syriza's left wing showing little sign of returning to the party fold, Skourletis also raised the possibility of early elections should Prime Minister Alexis Tsipras lose a confidence motion. Tsipras had to rely on opposition support to get the bailout deal through parliament, and another minister argued that elections would be a way of achieving political stability.
Greece's political turmoil has raised uncertainty over how the government will implement the bailout deal, which demands profound economic reform and tough austerity policies, without a workable majority.
The government has said its priority is to secure a start to funding from international creditors under the bailout programme, Greece's third in five years, so that Athens can make a 3.2 billion euro debt repayment to the European Central Bank on Thursday.
However, asked on Skai television about the possibility of a parliamentary confidence vote after this, Skourletis said: "I consider it self-evident after the deep wound in Syriza's parliamentary group for there to be such a move."
Tsipras was elected only in January, but since then has had to ditch his promises to reverse the budget cuts and tax increases that previous governments imposed to satisfy Greece's euro zone and IMF creditors.
Health Minister Panagiotis Kouroublis suggested that only another election could calm the climate at a time of economic crisis and show that the people would accept the onerous bailout programme.
"Elections are not the best choice … but for the economy to pick up there must be political stability," he told Skai TV. "To implement such a serious programme with painful measures, you cannot do that without a popular mandate."
SLIM CHANCE
Tsipras fired his last energy minister Panagiotis Lafazanis for joining a previous rebellion. Lafazanis now leads Syriza members who oppose the conditions that Tsipras had to accept in return for the 86 billion euros ($95 billion) in loans.
Last week Lafazanis took a step towards breaking away from Syriza, a coalition of the radical left, by calling for a new anti-bailout movement.
The chances that the hard left wing will relent and rally behind Tsipras in a confidence vote look slim.
"The bailout cannot be a unifying basis for Syriza," Stathis Leoutsakos, a lawmaker who joined the rebellion told Skai TV. "The bailout cannot be the programme of Syriza, it falls outside its values, these are incompatible notions."
However, a group of Syriza lawmakers called for the party to hold together. "We recognise that unity has been dealt a serious blow, but we refuse to accept a split as a pre-ordained fact," the 17 signatories said in a statement on the party's website.
Alekos Flabouraris, minister of state and close adviser to Tsipras, said he wanted all 162 lawmakers of the ruling coalition to support a confidence vote. "It would be unfair for the government to be brought down by its own deputies," he said.
On Sunday, Greece's socialist PASOK party joined the main conservative opposition in saying it would not back Tsipras in any confidence vote. PASOK made clear that while it had backed the government over the bailout for the sake of saving Greece from financial ruin, that support would not continue.
Once the dominant force on the Greek left, PASOK now has just 13 members in the 300 seat parliament but Tsipras will need all the support he can get. Crucially, it did not say whether it would vote against the government, or merely abstain.
On Friday, support for the government from within its own coalition parties fell below 120 votes, the minimum needed to survive a confidence vote if some others abstain.
The conservative New Democracy party, which has 76 seats, has also said it would not back the government.
Tsipras has presided over the closure of Greek banks for three weeks and severe limits on withdrawals from accounts remain, even though the financial system only narrowly avoided collapse when the bailout was agreed.
However, Tsipras is untainted by the corruption scandals that have touched Greece's older parties and remains popular, although no opinion polls have been published since the capital controls were imposed at the end of June.
Tsipras's standing has raised doubts about how much the opposition parties may want to force new elections.
Skourletis said that if Syriza opts for snap polls, the party would aim for an absolute majority.
"I think such a goal is attainable," he said, playing down the possibility of post-election collaboration with the likes of New Democracy, PASOK or Potami, a pro-European centrist party.