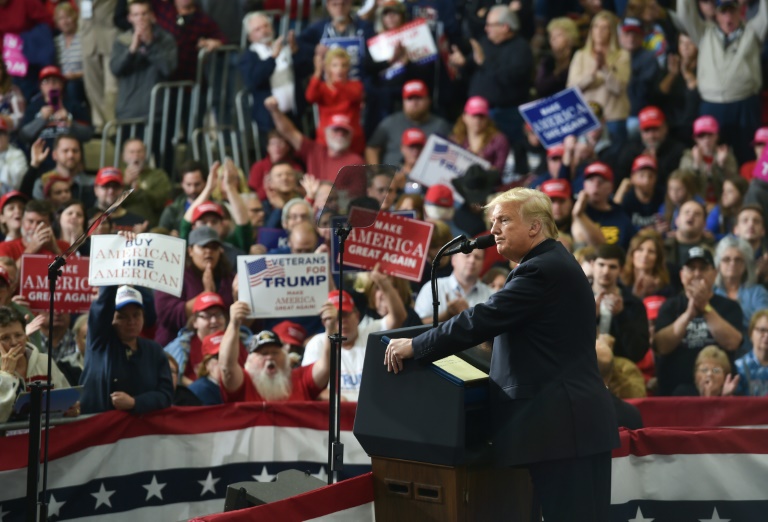 With four days to save the Republican Party's grip on Congress — and his own dominance of US politics — Donald Trump unleashed his two main weapons Friday: boasts about the economy and fear-mongering over immigration.
Trump flew to West Virginia and Indiana for campaign rallies, with more planned on the weekend and Monday. Less than 24 hours earlier, he was in Missouri.
"It will be a very exciting five days," Trump said at the White House before departing on the Marine One helicopter.
Trump said his Republicans are in a good position ahead of Tuesday's midterm congressional elections, particularly with new employment figures out showing the economy booming.
But polls point to the Democrats capturing at least the House of Representatives, threatening Trump with the specter of an opposition finally able to block policies and dig into his highly opaque personal finances.
The campaign trail Friday also saw arguably the one Democrat able to match Trump's sheer media star power — his predecessor in the White House Barack Obama.
Obama, employing his trademark oratorical flourishes, spoke in Florida, where Democrats and Republicans are locked in a series of tight races, telling supporters to "cut through the lies, block out the noise."
"Out of this political darkness, I see a great awakening of citizenship all across the country," Obama said.
Celebration and fear
Trump, who has brought an unprecedented brand of populism and confrontational politics to the White House, clearly enjoys a fight.
The latest job figures gave him a golden opportunity to crow over what he near daily claims to be the world's "hottest economy."
"Wow! The U.S. added 250,000 Jobs in October – and this was despite the hurricanes," Trump heralded in a typically high-energy tweet. "Unemployment at 3.7%. Wages UP! These are incredible numbers. Keep it going, Vote Republican!"
Equally good news for Trump and his bid to spread that elusive voter feel-good factor was that wages appear to be strengthening — a sign that average Americans may be enjoying the fruits of economic growth.
He also signaled that a budding trade war with China — which he says will force Beijing to drop what Washington has long considered unfair barriers and theft of intellectual property — will end with "a very good deal."
"We are getting much closer to doing something," he said.
Scorched earth
But if on one hand the president touts the United States as a land of plenty, with jobs for all, on the other he's doing everything possible to stir fear and loathing.
Even as illegal immigration dips to a quarter of what it was in 2000, Trump claims that the country literally faces an "invasion" of Central Americans.
He has ordered regular army troops to the US-Mexican border, announced "tent cities" to detain people demanding political asylum and claimed power to scrap the right to citizenship for anyone born on US soil — until now considered protected by the US Constitution.
Referring to a group of a few thousand impoverished Central Americans currently trying to walk to the United States through Mexico, Trump says the nation could be "overwhelmed."
But Obama decried Trump's deployment as a "political stunt."
Obama said the deployment was serving to "get folks angry and ginned up," adding: "There's just constant fearmongering to distract from the record."
On Thursday, Trump said soldiers would respond to migrants throwing stones as if they were attacking with firearms — suggesting that deadly force would be used.
He pulled back Friday, saying US troops "won't have to fire."
Another eye-catching moment has been Trump's tweet of a campaign ad starring a clip of a real-life illegal immigrant named Luis Bracamontes, who killed two sheriff's deputies in California in 2014 then laughingly bragged about the murders in court.
The ad, seeking to underline Trump's repeated argument that the Democrats will encourage hardened criminals into the country, says Democrats allowed Bracamontes to enter the US and "Democrats let him stay."
The Sacramento Bee newspaper in California reported, however, that records show the cop killer was deported before sneaking back into the country — under Republican President George W. Bush.