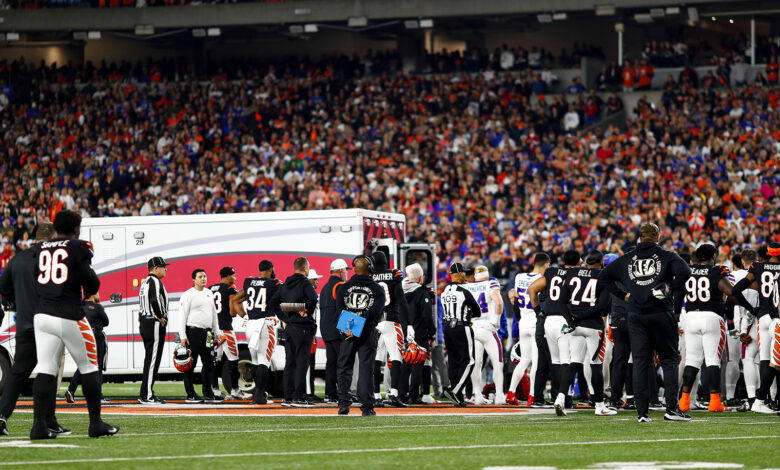 Jeff Miller, the NFL's executive vice president of communications, said the league does not have an update on Damar Hamlin's condition beyond what was released earlier Monday.
Miller was talking at the start of a teleconference call on Tuesday morning.
Earlier, the NFL said Hamlin was in critical condition.
Damar Hamlin's collapse on the field Monday night has turned the spotlight to the long-debated issue of safety in football, which had been heightened following other recent incidents.
"I think it's possible to make the game safer, but it's tough to make it completely safe. It can be a violent, brutal game," said neurosurgeon and CNN's Chief Medical Correspondent Dr. Sanjay Gupta following Hamlin's collapse.
Other incidents this season have notably involved Miami Dolphins quarterback Tua Tagovailoa, who landed in the NFL's concussion protocol twice within several months.
The 24-year-old was first diagnosed with a concussion in September after being sacked in a game against the Cincinnati Bengals. It came just days after he suffered an apparent head injury and was later allowed to continue playing in a game against the Buffalo Bills on Sept. 25.
His second concussion came on Dec. 25 against the Green Bay Packers.
Over the years, participation in football has declined slightly as research has shown that chronic sports-related exposure to head impacts can cause microstructural damage and alter or impair some brain activity.
However, CNN Sports Correspondent and former NFL player Coy Wire said the Monday night incident — and postponement of the game — showed "there is progress being made."
"A year ago, five years ago, certainly not 10 years ago, they would not have stopped the game," he said. "We're not seeing that right now … there's been a paradigm shift in terms of player health and safety and how precious our lives are. And that the game is not worth it in the end when it comes to serious issues like this."