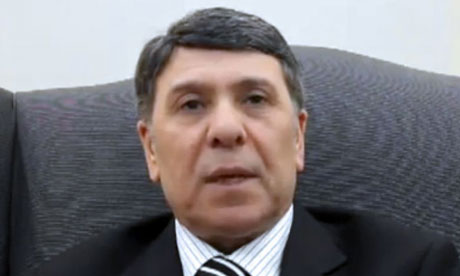 AMMAN — Syrian Deputy Oil Minister Abdo Hussameldin has announced his defection on YouTube, becoming the first high-ranking civilian official to abandon President Bashar al-Assad since the uprising against his rule erupted a year ago.
"I Abdo Hussameldin, deputy oil and mineral wealth minister in Syria, announce my defection from the regime, resignation from my position and withdrawal from the Baath Party," Hussameldin said in the video, the authenticity of which could not be immediately confirmed.
"I join the revolution of this dignified people," he said in the video uploaded on Wednesday and seen early on Thursday.
He said he had been in government for 33 years but did not want to end his career "serving the crimes of this regime," adding: "I have preferred to do what is right although I know that this regime will burn my house and persecute my family."
Syrian security forces have killed more than 7,500 civilians during the crackdown on pro-democracy protests, according to the United Nations, and the outside world has proved powerless to halt the killing.
While saying very preliminary military planning was under way, US Defense Secretary Leon Panetta on Wednesday defended US caution in trying to end the violence, despite criticism from legislators who questioned how many people would have to die before the Obama administration used force.
UN humanitarian chief Valerie Amos saw a scene of devastation and near desertion on Wednesday when she visited the Baba Amr district of the city of Homs that was shelled by the military for nearly a month after becoming a rebel holdout.
Hussameldin said: "I say to this regime: you have inflicted on those who you claim are your people a whole year of sorrow and sadness, denying them basic life and humanity and driving Syria to the edge of the abyss."
Assad appointed Hussameldin, 58, to his current position through a presidential decree in 2009. He said the country's economy was "near collapse." There was no mention of the defection on Syrian state media.
Wearing a suit and tie, Hussameldin looked relaxed as he looked directly into the camera in a tight head and shoulders shot, appearing to read from a prepared statement on his lap as he sat on a dark grey chair against a yellow background.
Opposition sources say the government, controlled by Assad's minority Alawite sect that has dominated power in Syria for the past five decades, has effectively stopped functioning in provinces that have been at the forefront of the uprising, such as Homs and the northwest province of Idlib.
But public defections have remained rare among the civilian branches of the state, despite thousands of the mostly Sunni soldiers and conscripts who make up the bulk of the army deserting since the uprising broke out last March.
Devastation
Amos is hoping to secure access for humanitarian organizations, which have been barred from the zones of heaviest conflict.
Syria had initially failed to grant Amos access to the country but relented after Damascus's allies Russia and China joined the rest of the UN Security Council in a rare rebuke of Syria for not allowing her in.
"It was like a closed-down city and there were very few people around," Amanda Pitt, a spokeswoman for the UN Office for the Coordination of Humanitarian Affairs said of Amos's visit to Baba Amr on Wednesday, adding it "looked like it was devastated from the fighting and shelling."
Amos went in with a team of Syrian Arab Red Crescent aid workers, who entered Baba Amr for the first time in 10 days, before heading back to Damascus where she held talks with Syrian Foreign Minister Walid al-Moualem earlier in the day.
He told her Syria was trying to meet the needs of all citizens despite the burdens imposed by "unfair" Western and Arab sanctions, the state news agency SANA said.
A convoy from the International Committee of the Red Cross has been unable to enter Baba Amr since arriving in Homs on Friday, a day after the district fell to the Syrian military.
US Secretary of State Hillary Clinton said delays in aid were unacceptable and called on Syria to respect a pledge last November to withdraw its forces, release political prisoners and allow peaceful protests.
"The regime's refusal to allow humanitarian workers to help feed the hungry, tend to the injured, bury the dead, marks a new low," Clinton said after meeting Poland's visiting foreign minister.
Clinton said she planned to meet Russian Foreign Minister Sergei Lavrov on Monday during a special UN meeting on the Arab Spring revolts which swept the Middle East last year and toppled four veteran leaders, including Libya's Muammar Qadhafi.
Russia, one of Assad's few remaining allies, has, with China, blocked UN Security Council resolutions calling for him to step aside. Its UN envoy on Wednesday accused Libya's new rulers of running a training center for Syrian rebels and arming the fighters in their battle to overthrow Assad.
"This is completely unacceptable … This activity is undermining stability in the Middle East," said Vitaly Churkin, who also questioned whether "the export of revolution" was "turning into the export of terrorism."
Assad's government says the uprising is a campaign by foreign-backed Islamist insurgents that has killed 2,000 police and soldiers since the protests erupted.
Military options
US President Barack Obama said on Tuesday it was only a matter of time before Assad left office, but has shown no enthusiasm for US participation in an election-year military mission to force him out.
He said on Tuesday it was a mistake to think there was a simple solution to the year-long crackdown on the Syrian opposition or that the United States could act unilaterally.
Panetta told the Senate Armed Services Committee the administration was still trying to forge a consensus on addressing the violence. "That makes the most sense. What doesn't make sense is to take unilateral action at this point."
He and General Martin Dempsey, chairman of the Joint Chiefs of Staff, told the panel that, at Obama's request, the Pentagon had studied US military options in Syria, assessing issues such as potential missions and Syria's troop line-up.
Dempsey underscored the very basic nature of the planning.
"The commander's estimate process really looks at … what are the potential missions, what is the enemy order of battle, what are the enemy's capabilities … what are the troops available and how much time. So mission, enemy, terrain, troops and time. That's a commander's estimate," he said.
The world has found no way to halt a year of bloodshed since many Syrians rose against Assad in what has proved one of the longest and bloodiest Arab revolts against entrenched rulers.
At the United Nations, the five permanent Security Council members and Morocco met on Tuesday to discuss a US-drafted resolution urging an end to the Syrian crackdown and unhindered humanitarian access.
In another effort to stop the violence, former UN chief Kofi Annan plans his first visit to Damascus as joint envoy of the United Nations and the Arab League on Saturday.
Nonetheless, the violence has continued. Syrian activist groups said the army, after its onslaught on Homs, has begun to mass forces around rebel bastions in Idlib province, which borders Turkey.
The Syrian Observatory for Human Rights said the army had started to concentrate outside the towns of Saraqeb and Jabel al-Zawiya as well as Idlib city. Jabel al-Zawiya has been mostly in rebel hands in past months and would be difficult for the army to clear because of rugged mountainous terrain.
The observatory said there were heavy clashes around Saraqeb on Wednesday night. Lebanese officials close to the Syrian government previously had told Reuters that Assad's aim was to crush the rebels in Homs and move on to Idlib.
Syrian media curbs make it hard to verify such reports.