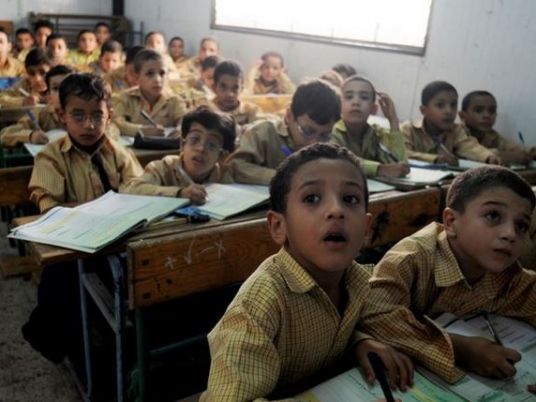 In July of this year, a young boy in one of Egypt's rural governorates hung himself after failing a school exam. The story went viral and many people became concerned about child welfare in Egypt. Questions were raised about whether is it easy for a child to kill himself.
"We build our reports on reliable statistics and news outlets and we analyze them, but in reality I rather expect higher indices," Ali said, when speaking of the total number of suicides in Egypt this year.
The report pointed out that the number of suicide cases surged in the period between June and November 2015, with 22 deaths. The figures showed 52 percent of the cases were male, while 48 percent were female.
Children aged 16 to 18 represent the largest number of suicide cases, at 25 deaths, while 17 of the cases are children between 11 and 15 years old.
This graph shows the number of suicides by age. For two deaths, the age of the children were unknown.
Moreover, rural areas represent 75 percent of the number of children who committed suicide, compared to 25 percent in urban areas.
This graph shows the geographical distribution of suicide cases across Egypt's governorates
Globally, suicide is considered the second leading cause of death among teens after road accidents, according to the World Health Organization (WHO). Suicide in undeveloped and developing countries represent 75 percent of the global cases.
In the period between 2000 to 2012, India had the highest rate of suicide world-wide, with 35.5 suicides for every 100,000 teenagers, followed by Zimbabwe and Kazakhstan.
Why are children committing suicide?
Egypt Independent spoke to Hatem Zaher, a psychiatrist and the head of Nour Zyada for Child Psychiatry, who believes the national figures are not a good representation of the number of suicides in the country. He suggests that over 100 children committed suicide this year, but they are recorded as accidental deaths instead.
From Zaher's point of view, the key reasons behind child suicide are "the family and the media".
Parents are every child's role model, therefore many children believe that everything done by their parents is "ideal".
"I remember a child who sliced his arteries after a fight with his friend because he was watching his dad (who had psychological disorders) hurting his own body whenever he got angry," Zaher said.
Zaher also clarified that suicide is a "crime" against everyone's soul, as everyone has the right to live. Unfortunately, Egyptian movies are currently treating the topic as a "normal" issue, considering the person who committs suicide a "victim", according to Zaher.
"Leading characters in movies, after being surrounded by life troubles, think about committing suicide, but at the last minute someone saves their lives. After that, the character's life improves and a love story begins," Zaher said,
Zaher explained that children imitate that thought process, believing someone will save them at the last minute, hoping their lives will turn for the better.
Does failing exams lead to suicide?
The EFACC's report showed a variety of reasons for children committing suicide. Approximately 16 cases were a result of psychological disorders and troubles, often because the children failed exams, such as a 14-year old boy who hung himself.
"It's the outcome of bringing up a child in the wrong way, with a complicated educational system which is based on the necessity of passing exams with no regard for whether those exams measure the children's comprehension or develop their intellectual skills," the report said.
It also argued for the need to amend the education system in Egypt and end memorization policies.
"Unfortunately, most Egyptian families place a lot of importance on education and, for instance, punish their kids if they fail exams with no regard for their child's other talent and skills," Zaher said.
He pointed out that some children are polite, talented and well-behaved, but are not very strong in formal learning environments, so they fail their exams. "Parents should convince the child that school is important but not everything in your life, it's just a part of it."
Zaher said that fear of being punished or feeling undesirable for not passing the exam may lead many children to commit suicide because they believe their life is falling apart.
Economic troubles and family issues
The report spotted 14 cases of suicide due to family and economic reasons, including the use of verbal abuse and depriving children of using technology as a form of punishment. It stated that three cases of suicide were a direct result of the children's fear of being punished after making mistakes.
The report, moreover, pointed that lack of funds, which provides for life's necessities, could also lead to suicide.
There were an estimated 9.2 million poor children in Egypt in the 2012/2013 period, while 7.5 million others were threatened by poverty, according to a report released by the Central Agency for Public Mobilization and Statistics (CAPMAS).
Zaher explained that sometimes a family's bad economic situation may lead to something called "displaced aggression", in which parents cannot express their frustrations towards the source of the problem, such as their boss. As a result, they take their frustrations out on someone weaker and often behave very aggressively towards that person or people.
"We can find many parents who have problems in their lives who are very violent with their kids, whether through unjustified verbal abuse or through systematic aggression, which may cause the kid to prefer 'death'," Zaher said.
Cartoons
Although many may consider cartoon-related deaths accidental, according to the EFACC report, two suicide cases were a result of children's attempts to imitate cartoons, such as in the case of "Mahmod", who died after watching Spiderman.
According to Zaher, cartoons play a dangerous role in influencing kids' beliefs, especially when they see their beloved superheroes jumping from a 12-meter high building without getting hurt.
"One of my patients, a kid, threw himself out of the second floor window because he was imitating these superheroes. He had to go to the hospital with multiple injuries," Zaher said.
Zaher stressed the family's role in explaining to children that these cartoons are not real.
Other factors
There were eight cases among the reported suicides where the causes were unclear, though several factors could lead to suicide.
Nesma Ai, the head of the media unit at EFACC, told Egypt Independent that the report did not monitor any cases of drug-related suicide because the foundation does not have field researchers and is not able to do on the ground monitoring.
Zaher, however, believes drugs play a significant role in child suicide as drugs can cause mood swings which may then lead to severe depression and suicide.
Living with a permanent disability can also be a factor for children. A boy was pushed to suicide after suffering from an undisclosed disability for a long period of time. The lack of funds, particularly with regards to purchasing expensive medication, resulted in his decision to end his life.
The report also pointed out that many children die as a result of being denied health insurance, which is in violation of the Convention on the Rights of the Child signed by Egypt.