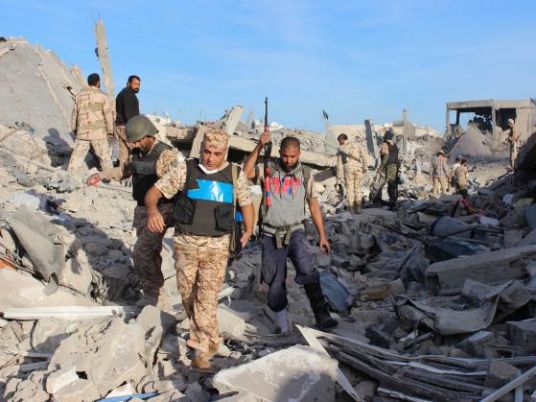 Egyptian President Abdel Fattah al-Sisi held a phone call on Saturday with French President Emmanuel Macron, during which the two leaders discussed the ongoing crisis in Libya and other pressing regional issues, according to Presidential Spokesperson Bassam Rady.
Egypt, which has backed Khalifa Haftar's Libyan National Army (LNA) against the UN-supported Government of National Accord (GNA) in Tripoli, says it aims to restore security and stability in Libya.
Sisi added during the phone call with the French president that his country supports efforts to combat terrorism and militant activity in the war-torn country, warning against what he called "foreign interventions" in Libyan affairs.
For his part, Macron stressed that France is eager to reach a political solution to the country's crisis.
During the phone call, Sisi and Macron agreed on boosting Egyptian-French efforts to address the situation in Libya, discussing as well strategies to bolster bilateral relations.
Last week, Sisi discussed the situation in Libya in phone calls with Italian Prime Minister Giuseppe Conte and Russian President Vladimir Putin.
France, Russia, Egypt, Jordan, and the United Arab Emirates have supported Khalifa Haftar's self-styled Libyan National Army, which launched an offensive to capture Libya's capital Tripoli last spring. Turkey, Qatar, and Italy back the UN-supported Government of National Accord based in Tripoli.
Meanwhile, reports have come in that Turkey is working to transport rebel militia fighters from Syria to Libya to support the GNA, which is headed by Fayez al-Sarraj.
Erdogan announced last week that Sarraj's Tripoli-based government had requested that Turkey send military forces to support the GNA against Haftar's offensive.
The Turkish president is expected to get the green light from Turkey's Parliament between January 8-9, which would mean deployment of Turkish troops as early as next month.
Turkey is set to provide various kinds of support to the Tripoli-based government in their fight to fend off Haftar's self-styled Libyan National Army, Erdogan has said, adding that Tunisia will also provide political support to the Sarraj government.
However, Minister of Interior of the GNA Fathi Bashagha told reporters during his visit to Tunisia last Thursday that Libya had not yet submitted a formal request to Ankara for the deployment of Turkish troops.
Adding to the confusion, Tunisia has rejected Bashaga's earlier statements about Tunisia joining the Turkish alliance in Libya, stressing its neutrality in the Libyan crisis and denying any intention of joining the Turkish coalition. 
In early December, Sarraj and Erdogan signed two memorandums of understanding that sparked new tensions in the Mediterranean. The agreements discuss contentious maritime boundaries in the Mediterranean Sea and aim to boost security and military cooperation between the two countries, a move that Egypt and Greece have both rejected.
Edited translation from Al-Masry Al-Youm 
Image: Fighters of Libyan forces allied with the U.N.-backed government walk through debris in Sirte, Libya, on December 5, 2016 (REUTERS/Ayman Sahely)