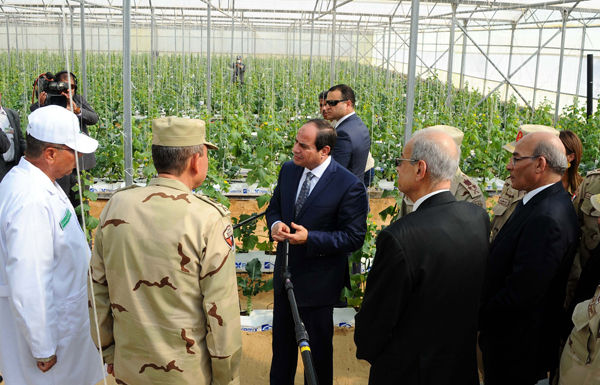 President Abdel-Fattah al-Sisi inaugurated on Thursday the first phase of a project building 100,000 greenhouses to grow agricultural products that demand less irrigation than traditional farming, in an effort to preserve water and combat the issue of food shortages.
During the inauguration of 1,302 greenhouses, which took place in the Mohamed Naguib base in Marsa Matrouh governorate, Sisi said the project intends to meet all Egyptians' needs for food consumption, but not for exportation.
In a televised press conference, Sisi said "these greenhouses are not for exportation. We will not be exporting until we meet national market demands."
Sisi said the project would be implemented over several phases, with the first phase building 5,000 greenhouses on 20,000 acres in Marsa Matrouh, Ismailia, and Sharkia. The National Company for Greenhouse Agriculture will be the responsible entity for carrying out all these projects.
Sisi hailed the greenhouses, saying they will provide efficient use of land and water as well as provide new job opportunities. Moreover, he stressed that the quality of the food and crops produced by the greenhouse will excellent.
Sisi also said the project is not in competition with the private sector, and encouraged businesses and groups to rent and utilise the greenhouses.
Finally, he emphasized the importance of preserving agricultural water saying, "Egyptians must be careful with every drop of water they use."
He added that water conservation is a responsibility that should be taken seriously by the people as well as the state.
The project to build 100,000 greenhouses first began in 2016, when the Agriculture Minister's Research Center announced it had concluded its studies to build the project.
Agriculture is an important part of the Egyptian economy, Encyclopedia Britannica reports that agriculture contributes to one-seventh of the national GDP, and employs roughly one in four of Egypt's labor force.