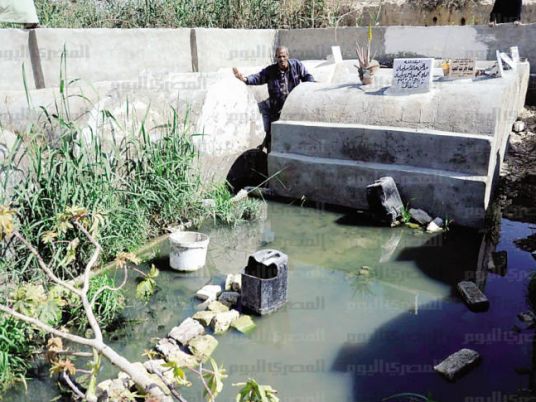 Even the dead cannot escape the neglect of officials, locals say, after sewage has flooded graves at the cemetery at Kilo 21 in Alexandria.
Some of the bodies do not decompose as some undertakers are forced to put the bodies in the sewage and close tombs on them after losing hope in officials' response to complaints.
"The government does not have mercy on us in life or death," said Zeinab Abdel Fattah, 65, whose relative in buried at the site.
"We went to the sewage management more than once and we called for help, but nobody listened. No one listens to us because we are simple people. People like us live poor and die poor," she added.
"Neglect and indifference are the same and nobody heeds us. In case they do not hear our demands, we will escalate," said Hamdy Shabayek, a resident.
"We are not calling for bonuses or jobs Mr. President, we gave up our rights and we are now calling for the rights of our dead," he added.
Saad Ali, Vice President of al-Raed Charity Association responsible for burial and guarding graves, said the sanctity of cemeteries were violated as they are forced to throw the dead bodies in graves filled with sewage causing the bodies to float and not to decompose.،
He pointed out that he opened a grave to place a body and found out that another body that he had buried seven months ago did not decompose.
"We have done our best to complain to officials but no one has responded," Ali added.
Undertaker Mohamed Rezq complained about the extent of suffering during the burial of dead bodies: "Many times the body slipped out of our hands due to the difficulty of the road leading to the entrances of tombs and cemeteries so we smashed the walls that surround some of the lands and placed the bricks on the ground to walk on them on our way."
"We tried to dry a grave for six hours of the sewage few days ago," said Rezq.
Mostafa Metwally, son of Ne'ma Hafez who was recently buried, called on the government to transfer the buried bodies away from the sewage area. "We will never forget the day we buried our mother as we kept trying to dry the grave for seven hours while her body was placed on the ground," he said.