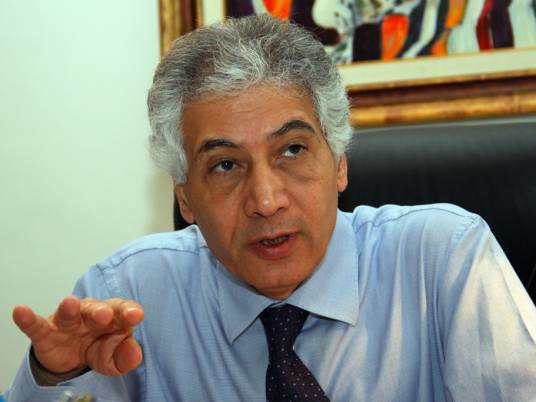 Former spy Lieutenant General Hossam Kemal al-Din, becoming the second presidential hopeful who has a military background, has announced his intention to join the presidential race scheduled to take place this year.
Din said in a press conference on Monday that he is not the candidate supported by the military, adding that his decision to run in presidential elections has nothing to do with a decision in December by former Lieutenant General Magdi Hatata, ex-chief of staff of the Egyptian military, not to run for the office.
The other candidate who has a military background is General Ahmed Shafiq, former senior commander of the Egyptian Air Force and the last prime minister to serve under the deposed President Hosni Mubarak.
However, Din expressed hope of winning the military's support. "I wish that the military institution would look positively at me," he said, despite the military's confirmation it is not supporting any candidates.
On 17 February, less than a week after former president Hosni Mubarak's ouster, Major-General Mokhtar Mullah of the Supreme Council of the Armed Forces (SCAF) said that Egypt's army would not field a candidate in upcoming presidential elections.
So far, the most prominent presidential candidates are Amr Moussa, Mohamed ElBaradei, Abdel Moneim Abouel Fotouh and Shafiq.
Since 1952, all the presidents of the republic have been former army generals. Revolutionary forces look at the upcoming elections as the way to bring Egypt its first civilian president.
Din argued that his military background would not decrease his chances of winning the presidential race, despite the fact that revolutionary forces reject a military candidate.
"The final say is the electoral program and the people who will favour this program or not," he said.
In the press conference, the new presidential hopeful said that he had worked for 14 years under the leadership of Omar Suleiman, Egypt's former intelligence chief who briefly served as vice president before Mubarak resigned.
"General Omar Suleiman won't run for the presidency and I'm not an alternative for Suleiman. Even if he (Suleiman) decides to run, this will not affect my decision to run in the presidential elections."
Due to the secretive nature of his job, little information is known about the intelligence officer. His official records show that he graduated from the Military Academy in 1964 and stayed at the army until he became a battalion commander in 1974. Later, he joined Egypt's intelligence apparatus.
He fought in the North Yemen Civil War and the October 6 War.
In the press conference, Din drew general outlines of his vision for the country. He said that Islamic Sharia law should remain the basic source of legislation but citizenship should be applied in order to guarantee that all citizens are equal. "I totally support the civility of the state," he said.
"Islamists should be allowed to participate in politics but Salafis should change their extremist ideas in order to match with the society."