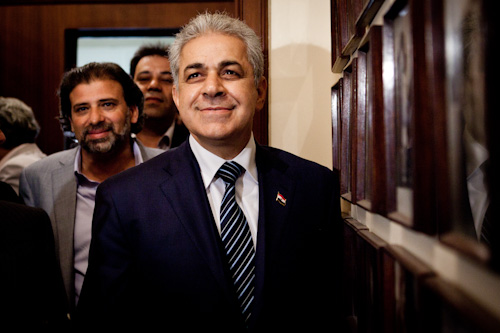 Hamdeen Sabbahi, the former presidential candidate who placed third in the first round of the election, has called on President-elect Mohamed Morsy to review the formation of the panel tasked with writing Egypt's constitution.
Hours after the announcement of Morsy's win on Sunday, Sabbahi said the nation now needs accord on the Constituent Assembly. He also emphasized the need for having a consensus government that is not dominated by a particular group.
Sabbahi wrote on his official Facebook page that the entire political spectrum has to work with Morsy in this critical moment.
Morsy, a 60-year-old engineer who studied in California in the US, defeated former general Ahmed Shafiq in a runoff election last weekend by 3.5 percentage points, or nearly 900,000 votes, taking 51.7 percent of the total.
In his first speech, Morsy pledged to be a president of "all Egyptians."
Sabbahi also called on the Supreme Council of the Armed Forces to hand over power on 30 June as promised, transfer legislative power to the Constituent Assembly as soon as it is formed and abolish the judicial arrest power of the military.
Sabbahi has renewed his willingness to side with the people in building a democratic and modern state that is based on liberty, social justice, dignity and independence.
He called on the president-elect to achieve social justice, restore security, boost the economy, attain just retribution for the martyrs, release political prisoners, hold civil trials for those who were tried by military courts and form a presidential institution and Cabinet that reflect society's diversity.