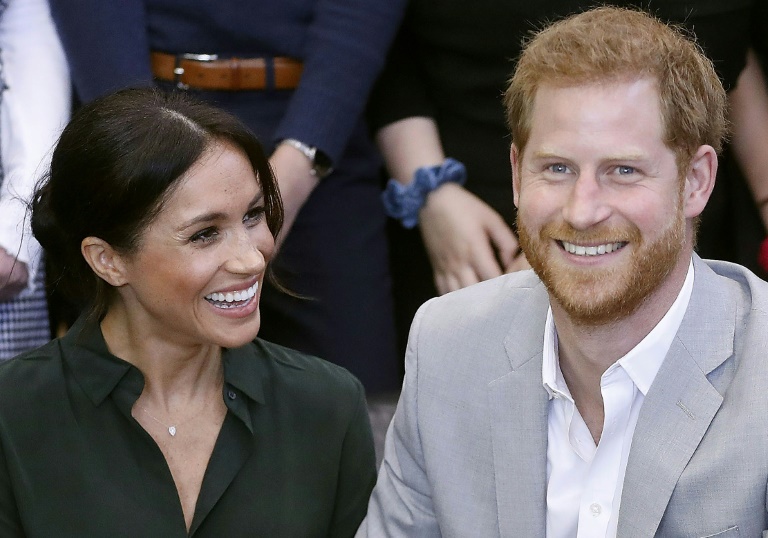 Forget Brexit. Prince Harry and his wife Meghan announced Monday they were expecting their first baby, sparking a media frenzy, debates over the royal name, and expressions of delight from the queen.
Kensington Palace said Queen Elizabeth II's 34-year-old grandson and the 37-year-old US actress, who had just arrived in Sydney ahead of a 16-day tour of the Pacific, would be having a child in the spring.
"The Royal Highnesses the Duke and Duchess of Sussex are very pleased to announce that the Duchess of Sussex is expecting a baby in the spring of 2019," their Kensington Palace residence said in a statement.
"Their Royal Highnesses have appreciated all of the support they have received from people around the world since their wedding in May and are delighted to be able to share this happy news with the public."
The queen was said to be "delighted", Prime Minister Theresa May tweeted her "warmest congratulations", and Meghan's mother Doria Ragland said she was "very happy about this lovely news".
"Happy news to wake up to on a Monday morning," US Ambassador Woody Johnson said in his own tweet.
Name game
The big announcement came with the nation gloomily pondering the prospects of Britain crashing out of the European Union without an agreement, after frenzied negotiations hit a weekend roadblock.
TV stations broke away from their Brexit coverage, banner headlines appeared on newspaper websites, and debates began about possible name for the future seventh in line to the British throne.
Google said searches for "when is spring?" had spiked while UK newspapers played up an inter-continental rivalry over what the child, who will become either an earl or a lady, will be called.
Meghan was a popular US actress before becoming the Duchess of Sussex. Some UK media said the California native would draw on her American roots.
But the bookies are favoring Diana — name of the late princess who was mother to both Prince Harry and his older brother Prince William — along with Arthur and Alice.
Baby talk greeted the couple in Sydney, sparked by Meghan carrying two large purple folders over her stomach.
"Is the Duchess of Sussex hiding a Royal secret?" Sydney's Daily Telegraph asked.
It turned out that she was — although speculation about Britain's next royal baby began even before the couple celebrated a fairytale wedding at Windsor Castle on May 19.
Harry set off the rumor mill shortly after their November engagement, telling the BBC: "Hopefully we'll start a family in the near future".
People's princess
Meghan made her name in acting as a savvy para-legal Rachel Zane in the US television legal drama "Suits".
In her first solo charity project, she launched a cookbook in September in support of families affected by the Grenfell Tower fire disaster in London.
The duchess wrote the foreword to the recipe collection entitled "Together: Our Community Cookbook", produced by women who suffered in the fatal blaze.
The June 2017 fire in a 24-storey residential block killed 71 people and left many more living in temporary accommodation.
Meghan's every smile, step and wave has been scrutinized by royalty watchers curious to see how the mixed-race star will perform in her new role.
She is adored by the public and shadowed at every appearance by the press, with dozens of UK reporters following the couple to the Pacific.
British media last month got particularly excited about her closing her own car door at her first solo engagement — the opening of an exhibition at the Royal Academy of Arts in London.
The gesture was interpreted as a sign that Meghan remained a down-to-earth woman without pretenses, a princess of the people.