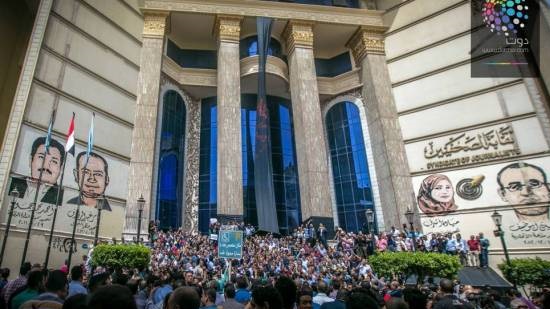 The Press Syndicate elections will take place in March and last for five days, according the syndicate's chairman, Gamal Abdel-Rahim.
Candidates for the chairman post and board membership started submitting their applications to the supervising committee.
Abdel-Rahim stated that accepted candidates will be announced Thursday, February 14. He noted that the board consists of a chairperson and 12 members; six members are staying as their terms have not yet ended.
Regarding the election requirements, six members out of the 12 board members should be journalists whose syndicate registration does not exceed 15 years. Moreover, any candidate for the upcoming elections should be a member of the Arab Socialist Union for a minimum of 10 years.
According to an official statement released by the syndicate on Sunday, February 11, Masr El-Fattah journalist Talaat Hesham has applied for the chairman post, along with six other applicants. Concerning the board, 30 journalists have applied for membership posts so far.
The statement added that the committee will be receiving applications until next Thursday.
The committee consists of four journalists: Mohamed Abdel Hafiz, Mostafa Abdel Khalek, Mohamed Kharagah and Hussein Al Zanaty.
It is worth noting that the last Press Syndicate elections were held in 2017, when pro-government journalist Abdel Mohsen Salama won.  Salama ran against Yehia Al-Qalash, who had gone through considerable confrontation against the government regarding the issue of the Red Sea Tiran and Sanafir islands.