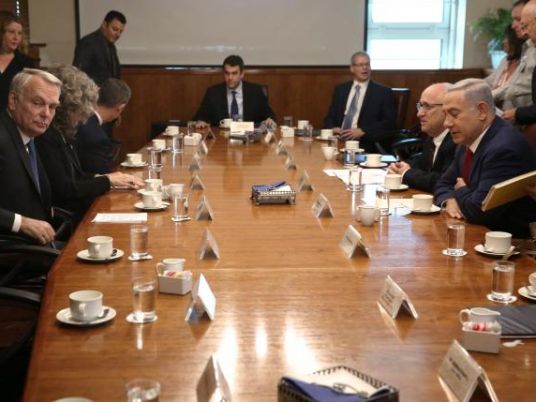 The Secretary of the Executive Committee of the Palestine Liberation Organisation,Yasser Abed Rabbo, has denied a report published by Israeli newspaper Yedioth Ahronoth that announced a meeting between President Sisi, Israeli Prime Minister Netanyahu and Palestinian President Abbas, describing it as "strange and baseless".
Speaking to Al-Masry Al-Youm, Rabbo said that Hamas' rejection of recent French efforts to bring about peace talks was a demonstration of "political stupidity".
Hazem Abu Shanab, a member of the Revolutionary Council of Fatah, said the report published by Yedioth Ahronoth about a trilateral summit in Cairo was false, adding that Israeli media is circulating rumors in an attempt to sabotage the French peace initiative by claiming it will be replaced by a summit in Cairo.
Official sources said that nothing is finalized about a meeting between President Abdel Fattah al-Sisi, Netanyahu and Abu Mazen to follow up on Sisi's call of last week for reconciliation between Palestinians and Israelis. The sources confirmed, nonetheless, that if the meeting goes ahead, it will be held in Cairo.
Rabbo's comments follow a report published in Israeli newspaper Yedioth Ahronoth that claimed Egypt is in the process of arranging an imminent meeting between Palestinian President Mahmoud Abbas and Israeli Prime Minister Benjamin Netanyahu in attendance of Egypt's President Sisi in Cairo, said Youm7 news outlet.
Sisi, according to the newspaper, is pushing for the revival of negotiations between Palestinians and Israelis, after Netanyahu rejected the French peace initiative earlier this month.
Following a meeting with French Foreign Minister Jean-Marc Ayrault, Netanyahu stated on May 15 that, "The only way to advance genuine peace between us and the Palestinians is through direct negotiations between us and them, without preconditions," Reuters reported at the time.
On May 17, French President Francois Hollande announced that Paris-hosted peace talks between the two nations — which had been scheduled for the same month — would be postponed until later in the summer. Hollande said that this was because US Secretary of State, John Kerry, could not attend the date.
In a speech given the same day, Sisi called on both Palestine and Israel to revive peace talks, stating that a resolution to the Palestinian case would bring resolution to conflicts in the Middle East at large. Speaking at the inauguration of an infrastructure project in Assiut, south Egypt, Sisi promoted the universal benefits of solving the Palestine issue, putting forward Egypt as a mediator for talks. He encouraged Israeli media to give thorough coverage to his speech.
Following Sisi's speech, Reuters reported, Netanyahu warmly received Sisi's remarks and found the Egyptian President's efforts "encouraging".