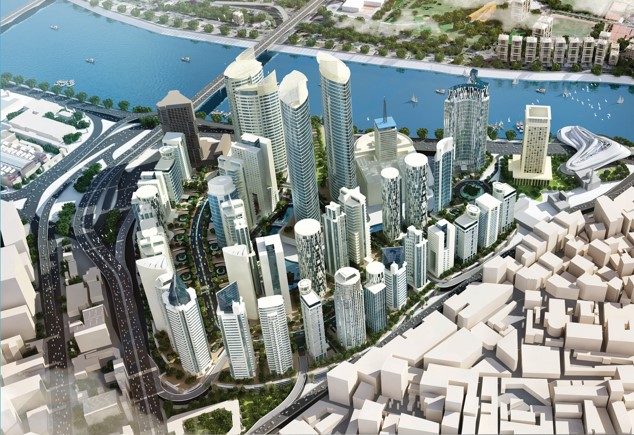 The construction of two new towers in Cairo's Maspero Triangle district is underway, as part of President Abdel Fattah al-Sisi's slum development plan, Director of the Maspero Triangle development project Salah Metwally said.
Metwally added, in statements to Youm7, that one of the two towers will be residential, and the other will be a hotel. There will also be two underground garages, five podium floors, and 28 other floors.
Hotel towers will be constructed in the area located on the Nile as well as behind the Maspero building, he said.
The plan, valued at LE10 billion, aims to turn the Maspero Triangle into a residential, commercial, administrative, entertainment, and tourist area.
The western side of the project has been allocated for administrative and commercial purposes, while the center will be an entertainment area.
The Maspero district is located in downtown Cairo. It is is bordered by the Nile Corniche on its western side, 26 of July Street from the northern side, Al-Galaa Street from the eastern side, and Abdel Moneim Riad Square on the southern side.
The Maspero Triangle was given its name because of its triangle shape on the map. The area was home to at least 18,000 residents until 2017, when most were relocated to make way for construction.
The area's approximate surface is about 75.19 acres, including all of its buildings and landmarks. Situated in the district are many famous and important buildings, such as the Radio and Television Union (Maspero) building, the Foreign Ministry building, the Dar al-Maarif building, the Ramses Hilton Hotel, and the Italian Consulate.
The state set a plan to develop the area after it was classified as an unsafe area due to urban decay and an abundance of unplanned housing.