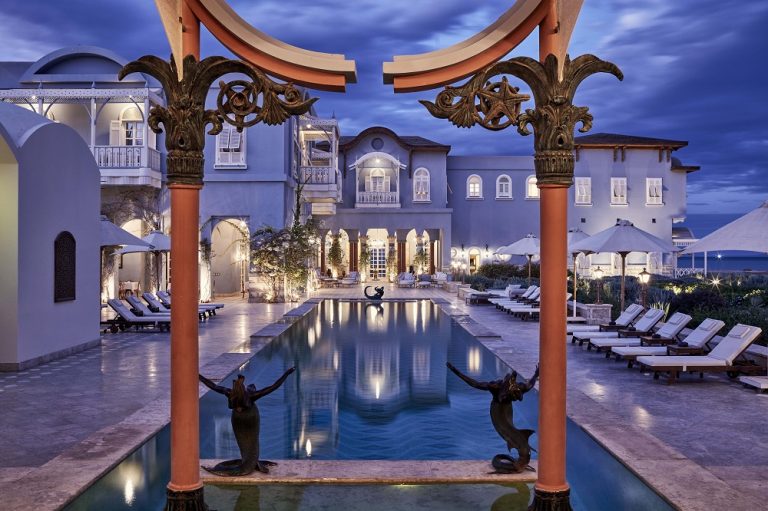 "La Maison Bleue", a boutique hotel located in Egypt's Red Sea resort town Gouna, is a prime example of hotels that are employing art with architecture. 
The beautiful pale blue building is located in a calm, secluded area on the shore of the Red Sea. The moment one enters, it feels familiar. Antiques and art surround you in every corner.
Upon first glance of the property, you might wonder, "How old is this place?" Parts of the hotel look like Marie Antoinette's rustic summer retreat in France, while other decor takes you back to the ancient times of Istanbul, Morocco and Italy.
Al-Masry Al-Youm spoke to the hotel's general manager, Ahmed Gaber, who informed them that the hotel was designed by antiques collector and interior designer, Amr Khalil, who chose to intertwine European and Middle Eastern influence from the eighteenth, nineteenth and twentieth centuries, making it an Art Deco modern dream.
Gaber noted that guests will feel like they are roaming around the world when walking through the hotel, as each space contains artifacts and decor from a different country and time period.
The hotel's facade is Venetian style, the marble floors are inspired by Italy's St. Mark's Cathedral, and murals copying the Minoan murals from Santorini are featured on the walls.
The hotel hired artists from Italy to paint the ceilings and walls, and the chandeliers are originals that used to sit in Italy's palaces.
Guests will find it difficult to understand that the hotel does not date back to the 1940s or 1950s, Gaber said.
The ground floor has a welcome hall that emulates the atmosphere of a living room, with eighteenth and nineteenth century-inspired furniture and a wooden fireplace.
The first floor has 11 wings, all with a different theme.
Outside, there is a swimming pool, spa, beach access, and a garden with an enchanting French atmosphere.
The hotel's restaurant serves a fusion of international and Egyptian food, created by European and Egyptian chefs, according to Gaber. Guests can enjoy their meal with garden and sea views.
Gaber mentioned that the hotel is applying all COVID-19 precautionary measures prescribed by the Egyptian government.
Furthermore, the hotel has its own application that guests can use to check in and out, and to access the hotel's menu.
"We are keen to reduce things that are touched to avoid transmitting [coronavirus] infection," Gaber said.
The hotel also has a medical clinic with doctors on-site 24/7. Guests that are experiencing symptoms will receive free treatment at the hotel.