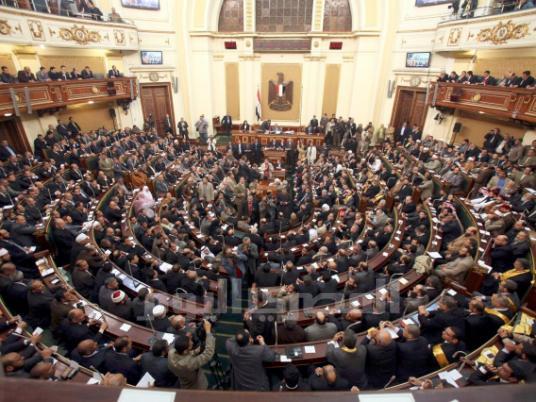 Following last week's spate of legislative measures, Parliament managed to keep it together for another round of sessions despite having issues as weighty as police reformation, farmers' rights, and an escalating health crisis on their itinerary.
Sunday saw the continuation of a discussion on possible amendments to Article 109 of the 1971 police law, which determines salaries, periodical bonuses, and overall living standards for the nation's soldiers and police forces, with numerous MPs taking the floor to acknowledge the nobleness of a parliament looking to ensure the best interests of "the enemies of the revolution." In response, MP Badawy Abdel Latif — member of the Wafd party and a major general in the police force — apologized for the institution's "past behavior, and any lack of trust it may have resulted in," before adding that police salaries "have not been raised since 1971."
This led to further debate on the root of the evils afflicting the police force, with several MPs commenting on the culture of oppression within the institution, and disdain towards low-ranking officers. Waving a handful of documents, one MP pointed out that official police budget sheets only include superiors and high-ranking officials, while another criticized the institution's practice of disciplining its own "through harsh measures and punishment such as court martials, rather than motivation and rehabilitation."
 

Karama Party MP Amin Iskander lamented the extent to which the conversation on police rights had become "fragmented" in recent years, while an Islamist MP blasted the "widespread discrimination" plaguing the institution, urging Parliament to ensure that from now on, "anyone should be able to join the police force."
 

"Applicants from Sinai are consistently turned away, even when they are physically fit," he claimed. "Let us forget the past and talk of the future. There will be no difference between the son of the valley and that of Upper Egypt."
 

There was also some debate on the removal of a 1954 amendment requiring all officers to obtain a law degree in order to be eligible for certain ranks. "Show me one country where a person spends four years in law school to be a police officer. And I'm not even talking about the poor countries; I'm talking about Europe," Karama Party MP Mohamed Mouneib stated. However, several MPs responded by stressing the importance educating officers on formal law practices and human rights.
 

Speaker Saad al-Katatny then resolved a brief dispute on the exact conditions under which a police officer should be allowed to carry weapons by calling for a vote to end the discussion. Parliament voted to approve the amendments to the 1971 police law, which, pending final ratification by the Supreme Council of Armed Forces, will see a raise in salaries, and the cessation of court martial as a disciplinary measure against officers.
 

On Tuesday, Parliament resumed its discussion of amendments to the police law, with the debate revolving around the concept of "honor police" — a controversial "rank" only attainable after 24 years of service, regardless of an officer's education — and the question of who the police ultimately answers to. Freedom and Justice Party MP Osama Soliman's remark that, "The president should not be one of the people supervising the police force," was met with as much approval as disagreement.
 

"The police force is the extension of executive powers," one MP said. "Obviously, the president should be in charge of it."
 

Socialist Popular Alliance Party MP Nasr al-Zoghby pointed out that, "Mubarak wasn't born a dictator, he was allowed to become one. Why not just create a position solely tasked with supervising the police?" The question then turned into one of whether the police should be a civil, or militarized force, and in either case, which law should they be made to follow.
 

The final passing vote described the police as "a civil institution pertaining to the Ministry of Interior, and is divided according to regional sectors, each with its own supervisor and assorted officers and assistants and soldiers." The discussion over the president's role in the equation was, according to numerous MP's, "a waste of time," since, as later explained by Wafd Party MP Badawy Abdel Latif Hilal, "the current lack of constitution and president means it was an irrelevant discussion."


On Sunday, followed an "urgent issue" session, in which MP's took turns painting a bleak picture. FJP MP Ayman Sadek warned of the Imbaba neighborhood "sinking in its own sewage" after its streets collapsed, while Wafd Party MP Ibrahim Amasha claimed that the Delta city of Daqahlia Governorate's entire irrigation system was at risk due to a similarly sewage-related issue.
 

Also in Daqahlia, at least according to Socialist Democratic Party MP Ayman Aboulela, are medical caravans sponsored by the Freedom and Justice Party and "reportedly seen performing female circumcision."
 

Aboulela demanded an explanation, which FJP member Hussein Ibrahim met with, "These are merely assumptions. We [the FJP] respect the law, and it's true that the medical caravans are ours, but they do not promote female circumcision."
 

Ibrahim continued, claiming to speak for his party in saying that he was "fed up" with such accusations, before turning on speaker Katatny and demanding he do a better job protecting the integrity of Parliament from "such malicious rumors." Ibrahim's brief speech received some applause, and encouraged other Islamist MP's to contribute with their opinions, with FJP MP Mohamed Hassan Aref blaming the incident on "feloul" (remnants of the old regime) who must have "sent a complaint to the Health Ministry as part of a smear campaign." Mohamed al-Bassem, on the other hand, suggested that female genital mutilation "should only be performed by specialists, and on those who need it."
 

MPs also reported on an alarming amount of armed robberies and incidents of gang warfare within their respective constituencies.
 

Other issues of urgency included the systematic shutting down of factories by their "feloul" owners, as several MPs accused entrepreneur and former ruling party member Mohamed Aboul Einein of doing with his Ceramica Cleopatra facility in Port Said. "In one day, he has created 24,000 starving families," one MP claimed. "He has started a fire which will devour the nation."
 

Furthermore, MP's reported strikes across a wide range of unions and governorates. FJP MP Ahmed Shehata brought attention to the strike by employees of the Central Authority for Planning and Management in Sharqiya, at that point in its twentieth day, while Taher Ahmed Saeed reported on Mit Ghamr textile workers who had blocked the roads leading to their factory. "In Aswan 38,000 teachers are threatening to refuse to preside over final exams for not receiving their annual, as well as exam, bonuses," Wafd MP Mohamed Mirghani added.
 

One urgent issue somewhat closer to being resolved is the upgrading of the sewage infrastructure in four Upper Egyptian governorates, depending on a US$200 million loan from the World Bank, which divided opinions among MPs. Red Sea representative Wafd MP Sameh Makram Ebeid suggested that fixed interest rates be set for "projects of such a long-term and expensive nature," while Mohamed Anwar Sadat of the Reform and Development Party predicted the World Bank loan would "place a heavy burden on the national economy…and this is not a project that will yield any profit, it's sewage."
 

A number of Islamist MP's opposed the loan on the grounds of interest payments being a violation against Islamic law.
 

Monday's session saw Parliament tackle the "woman provider," as termed in the proposed law serving to ensure financial and social benefits to single mothers and sole female breadwinners. Much of the discussion revolved on what the definition of a "woman provider" entailed, with MP's arguing on whether such a law should extend to an invalid husband, an inclusion which failed to pass by popular vote. Details of the amendment were picked apart, prompting Katatny to ask a handful of quibbling MPs, "Since when did you become experts on linguistics?"
 

Eventually, the "woman provider" was determined to be any female who is the "sole source of income for her family, or has an income that does not exceed one and a half times her social security pension, and is not covered by health care."
 

The session dragged on until one MP remarked to Katatny, "There's nobody here, boss. Most people have left," to which Katatny snapped, "Well, what do you want me to do? You're the ones voting, and you've wasted all day."
 

Provoked into action, the MPs named the National Authority of Health Services responsible for dealing with such cases, for an annual fee set at LE12 for women who make less than LE12,000 a year, and double that amount for those who make more. Shortly after, Sadat pointed out that the proposed law contained no repercussions for those who failed to comply with it, Katatny called for a vote and the law was tentatively approved, "pending final decision in an upcoming session."
 

The Tuesday session ended with a trio of international agreements, as Parliament also voted to approve an initiative aiming to bolster "economic and technical cooperation" between Egypt and Pakistan, with the two nations agreeing to "trade technology and trading expertise, in their efforts to provide maximum leisure for their respective peoples."
Members of Parliament also voted to approve the formation of a Joint High Committee between the Egyptian and South Sudanese governments, that will revolve around at least one yearly summit, and will see Egypt strengthen its presence in the new nation. The day's final vote also dissolved previous visa requirements between Egypt and Ecuador, as well as Bosnia and Herzegovina, in an attempt at "improving relations" with the two countries.
 

The urgent issues that kicked off Wednesday's session included claims of "preparations for vote-rigging," as reported by numerous MPs, and Socialist Popular Alliance Party MP Abul Ezz al-Hariry's suggestion of forming a special committee to "look into these complaints and to accept submissions of evidence of vote-rigging."
 

As per scheduled issues, Parliament first discussed possible compensations for farmers who had lost livestock to an escalating foot-and-mouth (Homa Qola'eiya) epidemic, with MPs blaming the government for failing to prevent the spread of the disease. Citing over 29,000 livestock deaths in "a very short period of time," representatives of the Agriculture and Irrigation Committee proposed a plan that would compensate farmers LE2,000 per calf, LE3,000 for an older animal, and LE7,500 per ox.
 

Throughout the week, parliamentary committees had also been discussing a multitude of issues, with the Agriculture and Irrigation Committee working to postpone deadlines on farmers' debts and increasing their interest rates, while the Suggestions and Complaints Committee studied the feasibility of several new projects, including an emergency center on the west Assiut Road and several new hospitals. Meanwhile, the Religious Affairs Committee issued a ban on all imams in mosques owned by presidential candidates from "communicating with civilians." The Culture, Information, and Tourism Committee investigated a "monopoly" by travel agencies over Hajj trips, while the Budget and Planning Committee looked into the possibility of increasing pensions and social security eligibility standards across the governorates. The Youth Committee met with the Egyptian Olympic Association to discuss "preparations for the upcoming Olympics."
 

Parliament's Committee for Arab Affairs made an appearance, with its president Mohamed Saeed Idris outlining ways to promote the Palestinian cause, mainly through "increased media attention, and encouraging NGOs and local organizations, as well as flotillas and convoys and other international efforts…and raising the issue in every international conference in which Egypt participates." He also suggested encouraging "local art initiatives depicting the Palestinian struggle," and the activation of an "Office of Arab Boycotting of Israel."
 

"Committing to these priorities will regain Egypt's standing as a regional pioneer for the Palestinian cause," he claimed, "and preserve our Islamic heritage."
 

The Agriculture and Irrigation Committee also discussed the obstacles faced by Egyptian farmers in the growth and export of potatoes, claiming a monopoly between exporters and large companies. Due to lack of supervision and adequate resources, "the quality of Egyptian potatoes is rapidly deteriorating," explained the committee's representative, "to the point where international buyers are sending inspectors before making a purchase." The committee's proposed law will see the cancellation of the potato "class system" — which seems to be determined by ratio and darkness of "brown spots" on a potato — and the general improvement on all crops, with research centers being used to help.

Unfortunately, the issue had been raised at 6 pm, and only saw twenty minutes of discussion before Katatny dismissed Parliament, calling for the potato problem to be "discussed at a later date," and suspending Parliament until 26 May, two days after Egypt's first post-Mubarak elections.