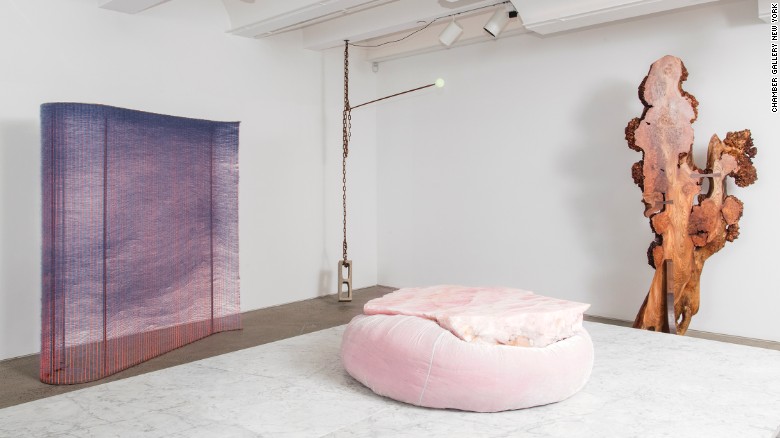 On the tails of Milan's massive design week in April, New York City's citywide festival of design, NYCxDesign–which runs through May 24–kicked off with a spate of shows giving voice to female talent in an industry that remains notoriously male-dominated.
"I feel like this is happening a lot now. People are organizing themselves everywhere," said Hilda Hellström, a sculptor and co-founder of Den Nya Kvinnogruppen (The New Women's Group), an all-female artists' collective in her native Sweden.
A 'Room' of one's own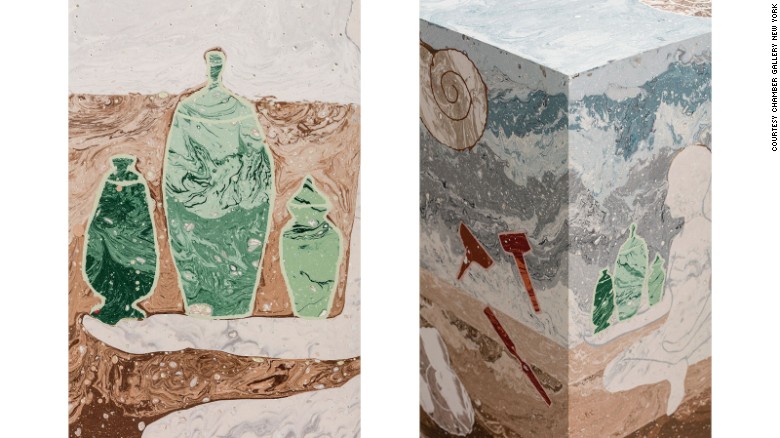 This month, Hellstrom is displaying her work, alongside 20 other women artists and designers, at "Room With Its Own Rules" (through July 15), the last in a series of four shows curated by Matylda Krzykowski at New York's Chamber gallery.
The prospect of organizing the final show centered on women artists and designers, Krzykowski says, rose from an undeniable sense of necessity.
"The goal is to influence and make people aware and consider the imbalances that still persist, but not forcefully," she said, noting that the rosters of many of the design world's top companies and galleries still comprise mostly men.
"We just have to give more space to women, and then naturally the space will be shared more democratically. In the end, we hold all the potential. It's just a matter of redistributing visibility."
While Krzykowski's first three installations were inspired by "Just What Is It That Makes Today's Homes So Different, So Appealing?" — a 1956 collage and commentary on postwar consumer culture by Richard Hamilton — "Room With Its Own Rules" stems from Hamilton's 1992 update to that piece, in which an image of a male bodybuilder has been replaced by a woman of color.
It struck Krzykowski as a sort of "sociological report" and promise for progress in the creative world that has largely remained unfulfilled, and thus ripe for examination.
Diversity over Protest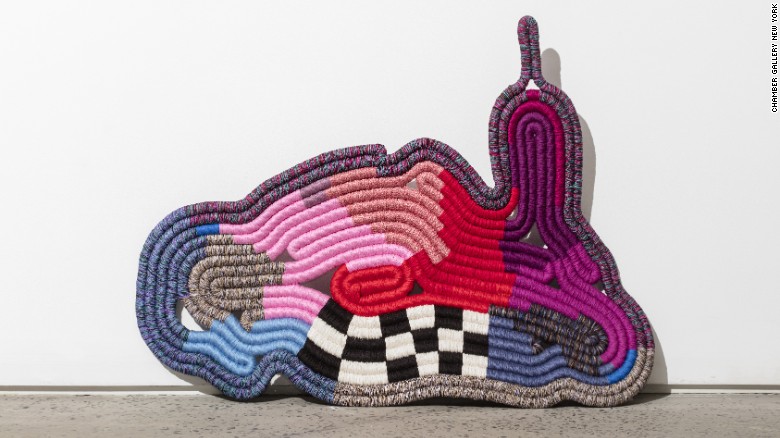 But If "Room With Its Own Rules" offers any statement about female creativity, Krzykowski suggests it is one that defies singularity, and instead imagines a post-patriarchal society in which an all-female show is neither necessary nor seen as progressive.
It's not a show of protest or empowerment, she says, but simply a show featuring "21 different women, with 21 different narratives," an international, multi-generational portrait of creativity in a given time.
Still, Kryzkowski's heady approach begs the question: How have women moved forward in the design world, and what challenges remain?
"I would prefer if we didn't need to have all-female shows, but I will be a part of them until we don't need to have them anymore," said artist Katie Stout, who created an oversize, pink fiberglass-and-resin table, cheekily titled the "Executive Wage Gap Desk," for the installation.
"I feel very lucky that I get to do what I want to do," she adds.
In the last year alone, Stout has shown globally at fairs including Design Miami and the Venice Biennale.
"Of course there are challenges, and sometimes it's hard to know if things are harder because I'm a woman. Obviously, I'm unaware of opportunities I haven't been given because I wasn't given them, but sometimes I do wonder about that."
An Unstoppable Force
Designer Lindsey Adelman, who has achieved a level of renown both Stateside and abroad with her sculptural, bauble fixtures, says she can't recall an occasion in which she's exhibited in a show without men, but welcomes the rising momentum in the city.
"It's a force that's unstoppable," said Adelman. "Now that we all know who each other are — a lot of us have followed one another's work, but hadn't met — we know that the other women are out there, each doing their thing. It gives you so much confidence."
For others, such as Johanna Grawunder — an architect-designer who worked with Italian master Ettore Sottsass for a number of years — all-female shows have not always provided an apt venue for empowerment.
"I've never wanted to do all-women shows because it almost felt like being placed in a ghetto. It never felt like an honor, but more of a sideline," she said.
However, she feels optimistic by the strain of feminism presented by Krzykowski and younger generations: "When Matylda wrote me, her approach about so much more than just being a woman. In fact, I didn't even realize it was an all-female show until quite a ways into it."
Egg Collective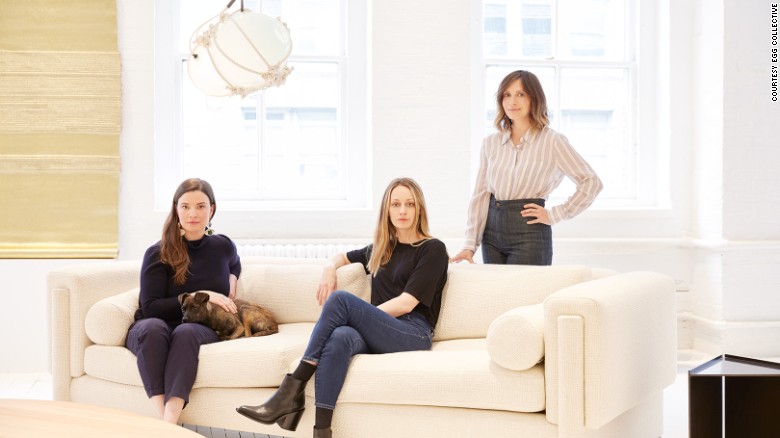 Downtown at its Soho showroom, the independent design studio Egg Collective presents another stellar show of works by an entirely female cast.
"Designing Women" (through May 26) features works by 16 New York-based female artists and designers, including fiber pieces by Dana Barnes, hanging tassel pendants by lighting designer Bec Brittain, and a rust velvet chaise by Syrette Lew of Moving Mountains.
Twenty percent of sales from each piece will benefit Girls Inc., a nonprofit whose mission advocates gender equality and increased opportunities for women.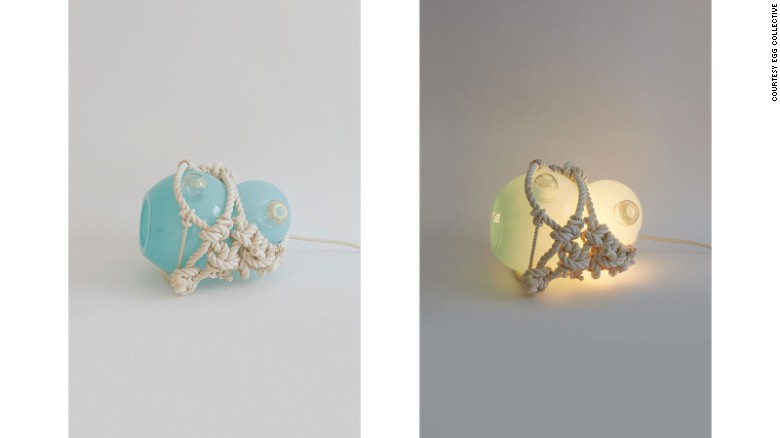 "It's hard when we have someone leading our country who is able to normalize talk about women that shouldn't be normalized," said Egg Collective co-founder Hillary Petrie, who was inspired to organize the exhibition after the Women's Marches that followed President Trump's inauguration.
"It almost feels like we're being pushed back, and we don't want that to happen. There's also a need to redefine the language and not be put into a box of feminist design, or having to say 'This is done by a female.' In fact, it's just design."
A number of museum exhibitions are also underlining a spectrum of female creativity.
At the Museum of Modern Art, "Making Space: Women Artists and Postwar Abstraction" spotlights female artists from the midcentury.
Uptown, the Cooper Hewitt, Smithsonian Design Museum — itself founded by women — proudly displays a gallery of permanent-collection works guest-curated by comedian and design devotee Ellen DeGeneres.
At the Brooklyn Museum, "A Year of Yes: Reimagining Feminism at the Brooklyn Museum" commemorates the 10th anniversary of its Elizabeth A. Sackler Center for Feminist Art with a year-long series of shows, including a monographic presentation on painter Georgia O'Keefe (through July 23).
Call it political synergy, or a collective clapback to the polarizing political administration, but one thing is for certain: All is not well in the state of current American politics, and New York's creative community is standing up to support underrepresented voices in art and design.