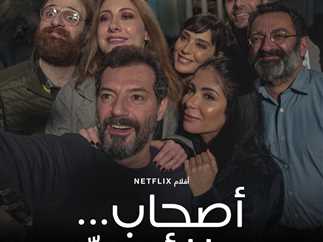 The producers of Netflix's first Arab production film "Ashab, Wala Aaz" and actress Mona Zaki were subjected to harsh criticism from social media users, hours after the film was shown on the digital platform.
Critics accused the film of promoting homosexuality and said that Zaki uttered words they described as "pornographic".
A hashtag with the name of the film topped the search engines online, becoming one of the most trending in the Arab world.
Movie critic Magda Khair-Allah defended the film, saying: "the moral judgments on artists over a work of art is non-progressive. An artist is judged by his mastery of the role he presents, or his failure to do so."
Khair-Allah added that the indecent words said in the film exist in our society, and are circulated in public and not in secret.
"Those who get offended should not watch the film. The movie is on a platform and not in the cinema, and no one is forced to watch it."
The film stars Mona Zaki, Nadine Labaki, Eyad Nassar, Adel Karam, Georges Khabbaz, Diamand Abou Abboud, Fouad Yammine and the movie's director Wissam Smayra.
Set in Lebanon, the film's premise revolves around seven friends gathering at a dinner party who decide to play a game where everyone agrees to openly share every message and call they get.
Yet what was supposed to be a fun night ends up spiraling as dramatic secrets come to light.
"Ashab, Wala Aaz" is an adaption of an award-winning Italian film of the name Perfect Strangers. The film will premiere on the streaming service with subtitles in 31 languages and dubbing in three languages.