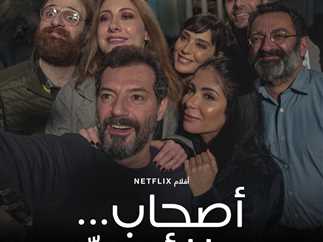 Netflix platform released its ad for its latest Arab production, the movie "Ashab, Wala Aaz", which will start showing on January 20, 2022.
The movie is the awaited Arabic version of the "Perfect Strangers" movie and brings together a group of Arab stars for the first time, including Lebanese director Nadine Labaki, Egyptian actress Mona Zaki, Jordanian actor Iyad Nassar, Lebanese actors and actresses George Khabbaz Adel Karam, Fouad Yammine and Diamand Bou Abboud.
"Ashab Wala Aaz" is the first Arab film produced by Netflix.
The story of the film revolves in a suspenseful framework about a group of friends who gather for dinner and decide to play a game where everyone puts their mobile phones on the dinner table, provided that all new messages or calls are in full view of everyone. But they discover that this game holds many surprises and secrets that no one knows.
The film is directed by Wissam Samira and is his first cinematic directorial experience and is produced by Front Row Filmed Entertainment, Film Clinic Express, Empire Entertainment and Yalla Yalla. It's produced by Mayada al-Haraki, music composer Khaled Mouzannar, written by Wissam Samira and Gabriel Yammine.
"Perfect Strangers" is an Italian film that achieved a record number of copies after being remade 18 times in different languages around the world. The film will be shown on Netflix on January 20, 2022 in 190 countries translated into 31 languages ​​and dubbed into three languages.