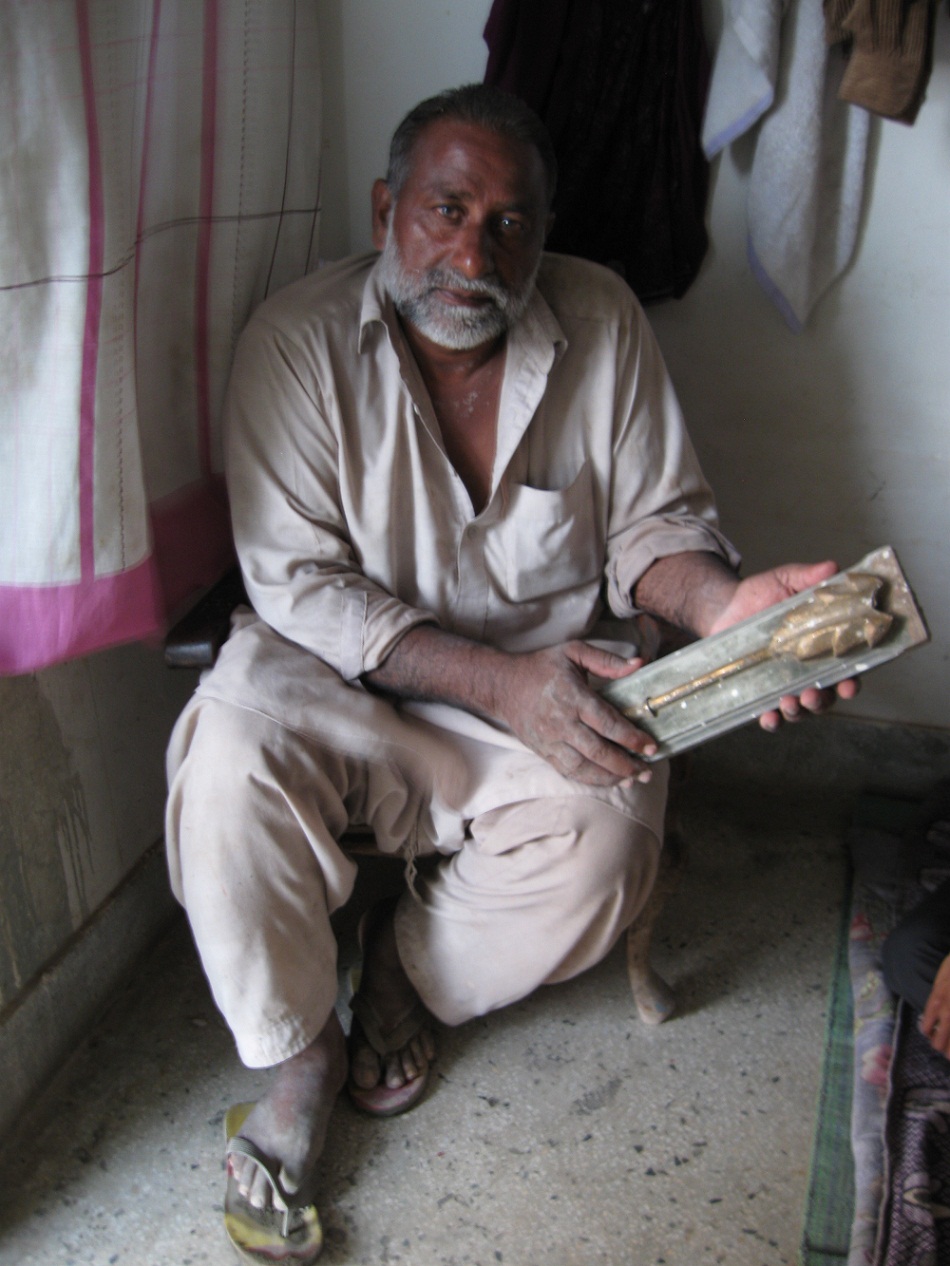 KARACHI, Pakistan — A young girl dressed in a green T-shirt and brown pants stepped out of the armed military vehicle, her face hidden. As cameramen scrambled around trying to get a shot and police tried to clear the way, a man ran with the girl to a whirring helicopter, the wind flapping the sheet hiding her features from view.
He helped her into the helicopter, followed by a woman covered from head to toe. For a moment, the girl seated in the helicopter turned around, confusion palpable on her face. The camera zoomed in. It was the first sighting of a girl who has made headlines worldwide.
The scenes, broadcast on national television on 8 September, were of Rimsha Masih, a Christian girl from the outskirts of Islamabad who is barely 14 and reportedly has Down's syndrome. She had been released from jail after being granted bail on blasphemy charges.
Masih was accused by a cleric of having burned pages of a religious text, but, after the case garnered international attention, a junior cleric came forward to reveal that false evidence had been planted on the girl by her accuser.
Pakistan's minorities have long been persecuted under the blasphemy laws, and even those who have been cleared of such charges, like Masih, have often gone into hiding or been killed.
The Emmanuels' house in the town of Gojra in Punjab province still stands. But no one lives there, the doors are sealed and the exterior is charred. The Emmanuels were accused of writing a "blasphemous" pamphlet and shot dead in July 2010 as they left a court hearing.
A year before the Emmanuels were killed, their house was set on fire as part of an organized campaign against Gojra's Christian community, as revenge for an alleged act of blasphemy in a nearby village. Eight Christians were killed, a church was desecrated and scores of houses were burned down. The Christian community eventually gave up on prosecuting those behind the carnage for the sake of maintaining peace, but there is still a bitter sense of resentment.
After Masih was accused, fear spread through the Christian community of the area in which she lived, and its members fled to avoid a repeat of the retribution in Gojra.
But in Pakistan, the politics of blasphemy are far more than just a sectarian fault line. They are a tool by which agendas — personal, political and sometimes commercial — are advanced.
A brief history of blasphemy
The blasphemy law is part of Pakistan's penal code, which is largely an adaptation of the law introduced to the Indian subcontinent under British rule in 1862. The law includes "offenses against religion," but the vague language leaves it open to interpretation. These comprise "defiling a place of worship," "deliberate and malicious acts intended to outrage religious feelings of any class by insulting its religion or religious beliefs," and using derogatory words.
Lord Macaulay, who oversaw the drafting of the law, told the British parliament, "I am not a Mussalman; but if I were a judge in India, I should have no scruple about punishing a Christian who should pollute a mosque."
Separate laws deal with Ahmadis, a sect that was excommunicated from Islam through the constitution in 1974, making it illegal for them to identify themselves as Muslims or use Islamic terms. The death penalty was tacked onto different clauses in 1982 and 1986.
The politicization of the blasphemy laws stem from the legislation pertaining to Ahmadis and finds its roots in the societal discord following Pakistan's creation.
The Majlis-e-Ahrar group, which had opposed the creation of Pakistan, found a new goal after its creation: to excommunicate Ahmadis from Islam. Following independence, Ahmadis were influential and held key positions in the government, bureaucracy and military.
The country's first foreign minister was an Ahmadi, and Majlis-e-Ahrar's opposition to him stoked riots in Pakistan in 1953. In 1974, Zulfikar Ali Bhutto, a politically weakened prime minister looking to gain the support of conservative clerics, legally excommunicated Ahmadis.
That step paved the way for various sects to look to the government to enact similar legislation. A demand of the banned militant organization Sipah-e-Sahaba was to have Shias excommunicated from Islam through the constitution. Sipah-e-Sahaba has pockets of support in constituencies in the southern area of Punjab, where local politicians rely on it to help rally voters. This pattern is replicated in several other areas of the country.
Successive governments have used religious groups to support political goals. The military dictatorship of General Zia-ul-Haq, who ruled from 1977 to 1988, focused on propping up Deobandi groups to counter what it perceived to be the post-revolution influence of Iran and Shia groups. General Pervez Musharraf, who came to power in a military coup in 1999, worked with an alliance of religious-political parties to gain support.
A 2008 US Embassy cable released by WikiLeaks noted that a Pakistani cabinet member "spoke in favor of ensuring that the laws are not misapplied to punish particular people, but said totally striking the law would be too controversial for any government to accomplish."
Now the blasphemy law is a convenient tool for those looking to garner support from the forces of state-controlled and informal violence. From property and business disputes to personal arguments, accusing someone of blasphemy inevitably means that the state will support the accuser and charge the other person.
The pattern of violence
The pattern of a case is fairly standard. A person only needs to make the allegation and doesn't require any proof: repeating the "evidence" would constitute blasphemy in itself. Accusers amass a crowd by riling it up, often using the support of religious parties or mosque prayer leaders; they try to beat up the person, if not kill them. The police are forced to register a case.
"Blasphemy cases are usually registered because of pressure," says Tahir Naveed Chaudhry, Masih's lawyer.
If the accused survive, they are sent to jail — but even at trial, proof is rarely presented.
Just a month before Masih was accused of committing blasphemy, a man was lynched in Punjab on suspicion of burning the Quran. According to Amnesty International's account, a thousand-strong mob dragged the man from the police station, beat him to death and then burned his body.
In the prosperous city of Sialkot in Punjab, a Christian bookseller was similarly accused of committing blasphemy in 2011, allegedly by asking his employees to burn pages of the Quran.
But the allegations came from the bookseller's former business partner's son, a Muslim, who was unhappy at how the former partners had negotiated their split. He managed to gather a mob and forced the bookseller's family to flee.
Fortunately for the bookseller, cooler heads prevailed. Elders sat down with the accuser and asked him if he had actually witnessed the act and how he could accuse someone who had a long business relationship with his family.
The cleric that accused Masih, however, succeeded in his particular goal: to force the Christian community to leave the area, although some families reportedly began returning after court proceedings begun. Chaudhry offers an explanation — when a Muslim is accused of blasphemy, the allegations are always against an individual. When a Christian is accused, the entire community is at risk.
Some offenses under the blasphemy law are punishable by death, and extrajudicial murders of those accused are commonplace. In 2010, 32 people were killed after being accused of blasphemy. According to a 2010 report by the Human Rights Commission of Pakistan, nearly 1,000 cases of blasphemy have been registered in the country since 1986. Of those, 476 were against Muslims, 479 against Ahmadis and 180 against Christians.
The politics of blasphemy
Such accusations have also been used to settle political scores. The former interior minister for the province of Sindh was accused of committing blasphemy by a member of a rival political party, who the minister had criticized publicly. A blasphemy case was also registered against former Prime Minister Benazir Bhutto in 1993 for making "derogatory remarks" against the Prophet Mohamed.
In January 2011, Punjab's governor was assassinated by a member of his security squad who opposed the governor's criticism of the misuse of the blasphemy law. Two months later, Federal Minister for Minorities Affairs Shahbaz Bhatti — who had made his name as a prominent Christian activist and also opposed the misuse of the law — was assassinated outside his house.
An attempt to introduce a bill comprising reforms to the blasphemy law in the lower house of parliament was never taken forward, and the legislator who drafted the legislation was openly threatened in rallies. After the assassinations of the governor and Bhatti, she kept a low profile.
Transition
The revelation that Masih was set up, her lawyer says, contributed to her securing bail on 7 September against surety equivalent to US$10,500. The government, Chaudhry says, has promised to provide security to Masih and her family.
The case against her could take months if it isn't dismissed out of hand, since a charge sheet still needs to be submitted, following which a trial date will be set. But for now, for her own safety, her current location is a closely guarded secret.