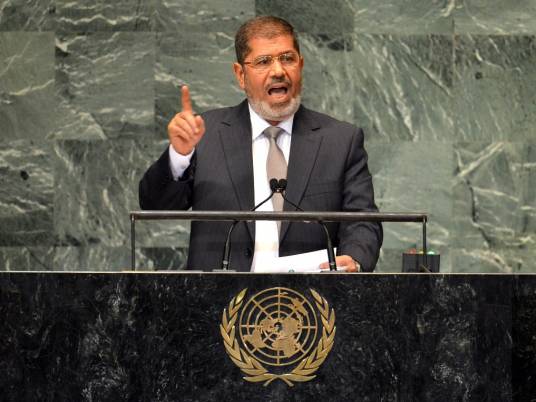 President Mohamed Morsy said on Friday that he could not turn a blind eye against those who committed crimes against Egypt, or against those who killed protesters or tried to hinder the revolution.
Speaking to a rally in front of the Northern Military Region in Alexandria, Morsy also said he would remain committed to keeping the judiciary an independent institution.
The president added that he would order the release of the remainder of Armed Forces members still in detention for breaking ranks and joining protesters during the revolution.
Morsy went on to claim that Alexandria residents must have noticed a general improvement in life in the governorate over the past two months, adding that he personally was following up on all the affairs of the area, including the demands of university employees.
"The government will spare no available resources to give to sons of the homeland," he said.
Morsy said he paid great attention to the demands of doctors and would give them high priority, although he denounced the practice of "leaving patients without treatment until demands are achieved."
All criminals who committed crimes against the Egyptian people would be held accountable. He added the state security forces are keeping an eye open for those who attempted to tamper with the security of the country.
The president also stated that the Illicit Gains Authority will start soon new investigations into corruption.
Edited translation from Al-Masry Al-Youm