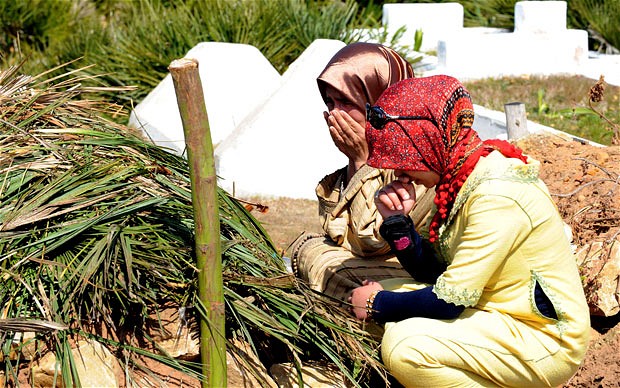 Some 200 Moroccan women staged an angry protest Saturday outside parliament a week after the suicide of a 16-year-old girl who was forced to marry the man who raped her.
Brandishing signs reading "Martyr Amina," "The Law Killed Me," and "We Are All Aminas," they called for changes to a penal code that allows a rapist to stay out of jail if he marries his victim with the consent of her parents.
The suicide last Saturday of Amina al-Filali, who drank a lethal amount of rat poison, sent shockwaves through Morocco and sparked widespread calls for reform of a law that ostensibly defends family values.
Families of rape victims who are under 18 often agree to such a union because the loss of a woman's virginity outside of marriage is considered a dishonor to her family.
Amina's father Lahcen al-Filali said at a protest on Thursday that he opposed the union but his wife insisted. "She said we had to do it so people would stop deriding us, to remove the shame," he told AFP.
"Can you imagine that a man who has forced a girl to follow him with a knife, and who rapes her, could then want to marry her?"
A giant banner written in Arabic, Amazigh (a Berber language) and French read: "Women's Dignity. End Sexual Harassment."
Houda Bouzil of the Democratic Association of the Women of Morocco told AFP: "In 2008, the government introduced a bill, which has since been shelved, to demand an overhaul of the penal code in order to end discrimination and violence."
Similar legislation is in effect in neighboring Tunisia and Algeria.
The affair provoked an explosion of outrage in the news media and on the internet, where an online petition calling for the law to be changed attracted hundreds of signatures within hours.
"I did not know Amina, but I imagine the colossal number of these 'Aminas' who live, or lived, among us," the independent newspaper Al Sabah wrote in a lengthy editorial.
"It's the law, an absurd, grotesque social rule, that tries to remedy an evil — rape — with another even more repugnant one, marrying the rapist…. Whom are we punishing in the end, the victim or her tormentor?" it asked.
The government has pledged to re-examine the law, while police summoned and released the rapist after Amina's suicide.
Under Moroccan law, rape is punishable by five to 10 years in prison — or between 10 and 20 years if the victim is a minor, which also entails a fine of 200 to 500 dirhams (18-45 euros, $24-60).
If the rapist marries his victim he cannot be pursued legally unless she manages to obtain a divorce.
But under the family code the decision of the judge authorizing such a marriage cannot be reversed.
On Thursday, 300 protesters staged a sit-in outside the local court that approved the marriage.