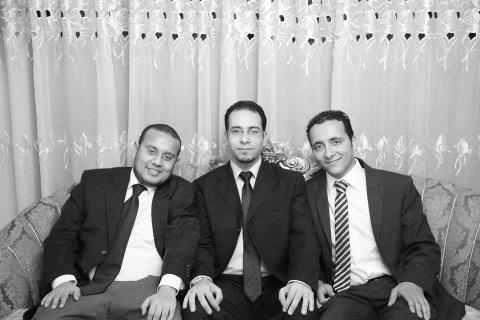 The Egyptian Social Democratic Party said Friday that the armed forces detained Thursday three of its members who took part in a human chain organized by the Save the Constitution campaign, which seeks to spread awareness about the drafting of the new constitution.
Two different protests took place in the eastern Cairo neighborhood of Nasr City on Thursday evening. One was a Save the Constitution protest outside a mosque, while a second protest was held outside the home of a military police leader, Hamdy Badeen, to advocate for the release of people detained by the army during the transitional period.
Activists participating in the protests were attacked by people in plain clothes, according to a leader in the party, Sally Samy.
Three party members, Karim al-Kanani, Mohamed Saad and Islam Amin, were kidnapped by these unknown people, Samy told Egypt Independent.
Samy said that activists saw the three men in a vehicle belonging to military police in Nasr City, but the military refused to confirm the party members' detention or reveal any information about them.
The party will organize a protest against the detention of it members, Samy said, especially as no information was revealed about the identity of the kidnappers. She called the detention of protesters a continuation of the military policy of restricting freedom of demonstration and expression during the transitional period.
Another party leader, Naglaa Hamdy, said that they tried to contact the missing members but their phones were shut off.
The April 6 Youth Movement, which took part in the Save the Constitution protest, said that one activist was wounded when people in civilian clothes attacked the protest.
Gaser Mahmoud, who was injured, told Egypt Independent that the protesters were attacked by people in civilian clothes, and one of them stabbed him in the thigh with a bladed weapon.
The No to Military Trials for Civilians Movement said in a recent report that, "Kidnappings of political activists from demonstrations and sit-ins have increased."
Activists disappear for hours or days after being taken by unidentified plainclothes thugs related to security forces, the movement said in the report issued last month.
A kidnapped person is taken somewhere for investigation and is released after being subjected to physical attacks, the movement said, adding that no official charges are made during or after detention.
The police and military deny all responsibility for the kidnappings, behaving in a manner reminiscent of state security tactics under the rule of Mubarak, the report concluded.
President Mohamed Morsy had promised to fight for the release of all detainees in military prisons during a speech he gave before thousands at Tahrir Square on 29 June. Morsy issued a decree to form a panel to review the cases of civilians detained by the military.
Activists say Morsy's efforts fall short of stopping the military police. They have demanded that Morsy issue amnesty to all civilians convicted in military trials since January 2011.