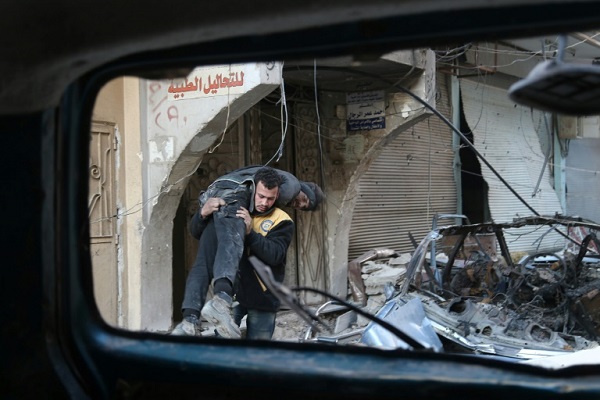 Israel has evacuated 800 White Helmets rescuers and their family members threatened by advancing Syrian regime forces to Jordan for resettlement in Britain, Canada and Germany, the kingdom said Sunday.
An Israeli government source confirmed Israel's military had rescued 800 people who were taken to Jordan.
"Upon request of the US, Canada and European states Israel has completed a humanitarian effort to rescue members of a Syrian civil organisation ("White Helmets") and families," Israeli foreign ministry spokesman Emmanuel Nahshon tweeted.
Founded in 2013, the Syria Civil Defence, or White Helmets, is a network of first responders which rescues wounded in the aftermath of air strikes, shelling or blasts in rebel-held territory.
Jordan said on Sunday that it had taken in 800 White Helmets rescuers and their families from Israel and plans to transfer them to the United Kingdom, Canada and Germany.
"The Jordanian government said it had authorised the United Nations to organise the passage of 800 Syrian citizens through Jordan to be resettled in western countries," the kingdom said.
"The government gave the permission after Britain, Germany and Canada made a legally binding undertaking to resettle them within a specified period of time due to 'a risk to their lives'," it said in an English-language statement.
"These Syrian citizens who were working in the civil defence, had fled the areas controlled by the Syrian opposition after the Syrian army's attack in those areas."
Canadian foreign minister Chrystia Freeland said in a statement that "Canada, working in close partnership with the United Kingdom and Germany, has been leading an international effort to ensure the safety of White Helmets and their families."
"At a meeting of foreign ministers on the occasion of the NATO leaders' summit in Brussels a week ago, I called for global leadership to support and help these heroes."
The White Helmets have rescued thousands of civilians trapped under the rubble or caught up in fighting in battered opposition-held zones along various fronts of Syria's conflict.
'Humanitarian gesture'
Since its formation, when Syria's conflict was nearing its third year, more than 200 of its volunteers have died and another 500 have been wounded.
The group's motto — "To save one life is to save all of humanity" — is drawn from a verse in the Koran, although the White Helmets insist they treat all victims, regardless of religion.
Some members have received training abroad, including in Turkey, returning to instruct colleagues on search-and-rescue techniques.
The Israeli army said it evacuated the White Helmets at the request of the United States and European countries, in what it called "an exceptional humanitarian gesture".
"Following an Israeli government directive and at the request of the United States and additional European countries, the IDF recently completed a humanitarian effort to rescue members of a Syrian civil organisation and their families," the army said.
"The civilians were evacuated from the war zone in southern Syria due to an immediate threat to their lives.
"The civilians were subsequently transferred to a neighbouring country," it said without elaborating.
"Israel continues to maintain a non-intervention policy regarding the Syrian conflict and continues to hold the Syrian regime accountable for all activities in Syrian territory."
Israel has been sending medical aid to civilians who have fled fighting in the Syrian-controlled part of the Golan Heights.
Israel seized 1,200 square kilometres (460 square miles) of the Golan area from Syria in the 1967 Six-Day War and later annexed it, in a move never recognised internationally.