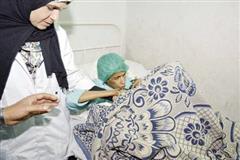 A medical team from the Ambulance and Health administrations in the Tama locality in Sohag transferred on Sunday a young man and his sister, both of whom have intellectual disabilities, to a hospital after finding them in a dark, hut-like room near a graveyard.
They received urgent medical care due to bone stiffness and muscle atrophy.
The siblings had allegedly not left their place of residence for 15 years following the death of their mother, which caused the condition of their bones to deteriorate.
Sohag governor Ayman Abdel Moneim received a notification from a charitable organization about the incident and instructed the local officials of Tama and the departments of Social Solidarity and Health to follow up on their cases.
According to Tama city Mayor Ahmed Shaker, the siblings lived in extremely difficult conditions in a dark room without water or electricity. They drank from a pump inside the room, local residents said.
When they were found, they were immediately transferred by ambulance to the Tama Central Hospital for medical examinations, which revealed that they had an intellectual disability, suffered from bone stiffness and muscle atrophy.
The governor instructed the Directorate of Social Solidarity to pay a social pension for them.
Edited translation from Al-Masry Al-Youm