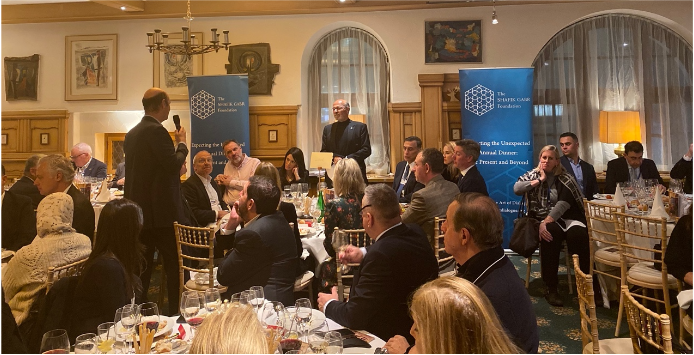 Chairman Shafik Gabr and his wife Gigi have for several years have organized their Davos opening dinner during the World Economic Forum, under the title 'Expecting the Unexpected,' inviting the guests to forecast and provide their insights for the  future.
The dinner this year was held on the first day of the World  Economic Forum, on Monday at the Central Sporthotel.
Over 90 guests came together in a friendly, insightful and deeply thought-provoking  environment, to informally discuss the predictions and expectations of the year  ahead.
Among the distinguished guests were Ministers, Ambassadors, government  officials, members of the US Congress, distinguished scholars, business people, media executives and entrepreneurs.
The evening was held under Chatham House rules, and the compelling discussion  ranged in topics from the Russia-Ukraine conflict, the future of pandemics, global  economy, technological advancements and AI, international relations and much  more.
The dinner discussion was moderated by Chairman Shafik Gabr and the renowned  international broadcaster Nik Gowing.
The main predictions for the years ahead:
A serious concern about a potential war initiated by Israel against Iran.
A post-COVID effect on the workforce in the near future.
Continued escalation of the Ukraine-Russia war with more weapons  deployed, lives lost, but no solution achieved, and potential spread of the  war across the region.
Luxury business will continue to thrive.
The economy in China will come back much quicker than anticipated. • Supersonic jet technology is a decade away.
In the US, the President's legislative agenda is over – there will be no major  legislation in the next two years.
There will be a brutal few months in the UK with strikes.
2023 will be a rough year economically with some light at the end of the  tunnel in the 4th quarter.
2024 will be a good year. Interest rates and inflation will go down.
Y2Q and implanted chips are coming sooner than we think.
In 2024, any company that does not have AI embedded in it will face great difficulty.
GPT-3 followed by GPT-4 will change a lot of how we conduct our daily lives  and professions.
No more will there be developed and developing nations – there will be  superior technology nations with weaponized AI, and aspiring nations.
Human beings will soon be either technologically embedded with memory,  health and monitoring chips; or ordinary human beings.
China will not attack Taiwan but contain it, learn from the push-back against  Russia and emerge with a potential ceasefire proposal regarding the Russia Ukraine war.