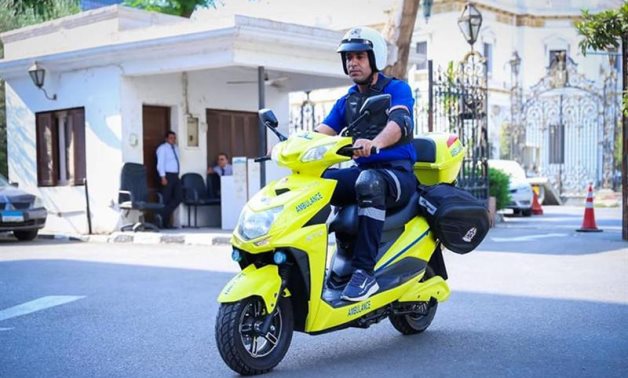 In order to speed up the ambulance service, an "emergency electric scooter" will be added to the Health Ministry's ambulance fleet, Hossam Abdel Ghaffar, official spokesperson for the Ministry of Health announced.
The "ambulatory scooter" represents the latest ambulance services provided to citizens, characterized by its speed, small size and ability to maneuver in narrow places and streets, to quickly ambulance the injured, he said.
The driver has a first aid bag, Abdel Ghaffar added.

The scooter contributes to the speedy relief of the injured, in addition to being environmentally friendly, as it works through electric charging.
It can move up to 100 kilometers on a single charge, and does not emit any exhaust at all.
The move comes on orders from Minister of Higher Education and Scientific Research and Acting Minister of Health and Population, Khaled Abdel Ghaffar.
Introducing the scooter at the present time to the ambulance fleet is in line with the government's plans to preserve the environment, as part of the goals for the UN climate summit scheduled to be held in November in Sharm el-Sheikh, Mohamed Gad, head of the Ambulance Authority, explained.
Gad confirmed that the authority has made great strides in the file of reliance on clean energy, by building 77 solar power plants, in line with the national strategy for climate change.