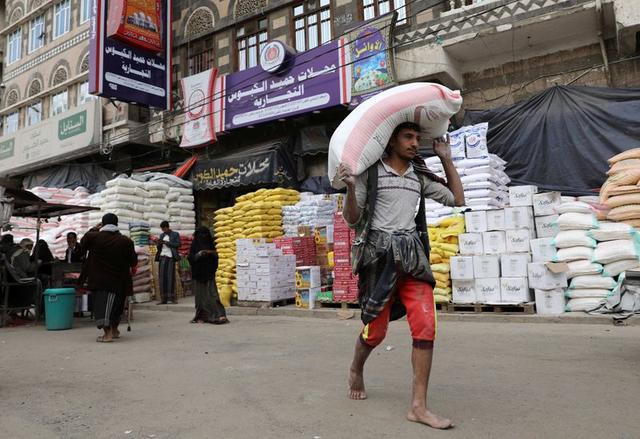 Egyptian President Abdel Fattah al-Sisi on Sunday reviewed the the availability and prices of strategic food commodities, as well as the ongoing preparations for the holy month of Ramadan which witnesses a spike in consumption.
This came during Sisi's meeting with Prime Minister Mostafa Madbouly, Minister of Supply and Internal Trade Ali al-Meselhy, and Head of the Engineering Authority of the Armed Forces, Major General Ehab al-Far.
The Minister of Supply presented the position of the strategic stock of all basic food commodities for the state, especially wheat, rice, sugar, oil, meat and poultry.
Meselhy assured that there is no issues in providing these commodities, which come under presidential directives to maintain their strategic stock for up to no less than an average of five months.
The minister referred to the state's efforts over the past seven years to construct strategic grain silos, which strengthened the state's ability to strategically store basic commodities, especially wheat.
Meselhy explained that the strategic stock of wheat will last up to four months, bearing in mind that the local production season will start in April and the target is to reach four million tons.
The state therefore has sufficient reserves to cover the needs of domestic consumption until the end of this year through production, storage capacity and new supply contracts.
He said that sugar has reserves lasting up to 4.5 months, noting that the new season for sugar production from sugar cane and beets began in January and February of this year so that local production covers 90 percent of the country's needs.
The state's strategic reserves for oil is sufficient for a period of 5.5 months, while continuing to strengthen the preservation of this stock.
And rice production is self-sufficient, with the Ministry of Supply also  having a strategic reserve enough for 6.5 months.
The strategic reserve of beans will last up to three months, and the available fresh meat and poultry have been reviewed with the reserve ratio in each of them reaching about 8.5 months.
President Sisi ordered to maintain the continuity of the state's strategic stock of major food commodities and to follow up their market prices, especially those listed on the ration card, for which the state bears the increases that have been made so far.