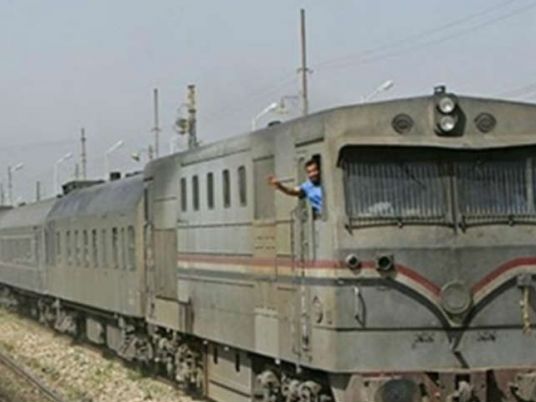 The Egyptian Railway Authority announced that it will launch training programs for its staff, following the death of 23-year old Mohamed Eid who was kicked off a still moving train because of a pay dispute.
"We offer psychological training for the workers to teach them to be cooperative with passengers," Transport Minister Waziri said while speaking to Ahmed Moussa on Moussa's TV program "Ala Massoulity" (By My Responsibility) on the Sada al-Balad Channel.
These training programs aim at qualifying workers to better deal with emergency situations, according to a statement released on Tuesday. The program will include conductors, ticket-sellers, and train officials among others.
Eid, a vendor, was thrown to his death from a moving train on Monday following a quarrel with the conductor, after saying he couldn't afford the ticket price to Cairo. The conductor then allegedly forced Eid to jump out of the train alongside with his colleague Ahmed Samir, 25, after they told him they had no money.
The conductor of the train 934 (Alexandria to Aswan) was taken to police the same day. The conductor confessed to throwing the victims out during police investigations. However, he pleaded not guilty during the Public Prosecution's investigation, which started on Monday.
The conductor handed a sentence of held for four days after being charged with "intentional killing" by the prosecution on Tuesday, October 29.
Eyewitnesses and preliminary police investigations said that the two victims had refused to pay the tickets, so the conductor kicked them off the train while it was moving.
The second victim, Samir, survived with serious injuries.
A forensic examination of Eid's body showed two major injuries on his arms as well as major injuries on his stomach, back and chest. The report added that his head had been entirely detached from his body.
Egypt's Transportation Ministry vowed that compensation of LE100,000 and employment would be provided to one of Eid's family members. Additionally, compensation of LE 20,000 will be offered to Samir.
Videos of the argument between the conductor and the victims, as well as videos by eyewitnesses recounting the incident went viral on social media.
One of the first videos released showed an old man on his phone reporting the incident to the police's hotline. Other videos featured witnesses claiming that they saw the conductor kicking the two men out of the moving train, after they refused to pay the ticket and fine.