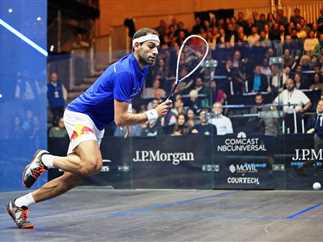 The Professional Squash Association (PSA), quoting the England Squash association, announced on Monday morning that the Egyptian squash star, Mohamed al-Shorbagy, has switched to play under the name of the UK instead of Egypt.
Shorbagy will represent the UK officially, starting from the Mauritius International tournament, which will be held from June 7 to 11.
Al-Masry Al-Youm published updated information about the player and they are as follows:
Shorbagy was born in Alexandria in January 1992. He lived in the UK and started his professional squash career in 2006.
Since the beginning of his professional career, he has played 178 international championships.
Shorbagy won 44 international matches out of the 71 matches he played in the finals of various tournaments.
In terms of all matches, Shorbagy played 618 matches, winning 478 and losing only 140 matches.
The 32-year-old won the Open Championship three times and the world championship once in 2017.
He was number one in the men's world rankings for 50 months and is currently ranked third in the world rankings of the PSA, after the Egyptian player Ali Farag and the New Zealander Paul Coll.
His younger brother is Marwan-al-Shorbagy, also a squash player, who is currently ranked ninth in the world.
Shorbagy failed to qualify for the final of the El Gouna International, an annual men's and women's squash tournament held in El Gouna, which was held last week, due to his objection to the arbitration, which caused arbitration to give preference to Coll over Shorbagy with three points, thus qualifying for the final match at Shorbagy's expense.