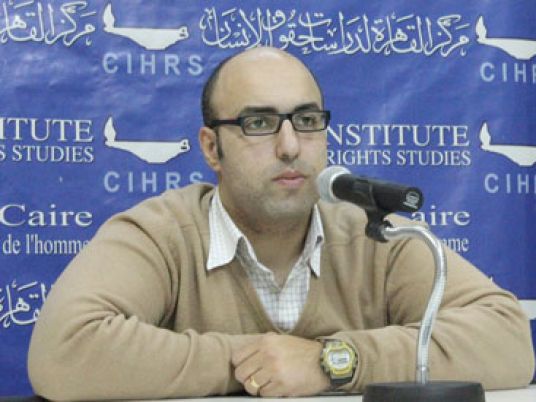 Egypt's Director of the Cairo Institute for Human Rights Studies, Mohamed Zaree, is among three finalists nominated for the 2017 Martin Ennals award — a prize for those who provide protection and support to human rights defenders who are at risk.
"Zaree is widely seen as a unifying figure bringing together the human rights community in Egypt to advocate with a common approach," according to a statement from Martin Ennals on Wednesday.
Responsible for the Cairo Institute for Human Rights Studies' legal research, media outreach and advocacy, Zaree believes the nomination is recognition and a motivation not only for him, but for his colleagues at the institution who were forced to move to Tunis to continue their work, as well as all human rights defenders in Egypt.
Zaree was subject to a travel ban and was deported back to Cairo on his way to Tunisia in May 2016. The travel ban was in reference to a police report filed back in 2011, which accused a number of NGOs, Egyptian activists and rights organizations of receiving illegal foreign funding.
The head of the Global Human Rights Defenders Team at Amnesty International said Zaree "is in imminent danger of being detained, despite fighting and working for human rights".
The two other candidates for the award are Karla Avelar, a transgender woman from El Salvador, and a group of five human rights defenders in pre-trial detention in Cambodia (FreeThe5KH). The award will be presented on October 10 in Geneva.
FreeThe5KH have been detained for their work with the Cambodian Human Rights and Development Association amid a crackdown on civil society and political opposition in Cambodia. Avelar has suffered discrimination, violence, exploitation and rape; she was imprisoned and then regularly abused by fellow prisoners with the knowledge and participation of the prison authorities, Martin Ennals award organizers said.
The winner of the award receives a minimum of 20,000 Swiss francs, while finalists receive a minimum of 5,000 Swiss francs each. Additionally, all three finalists receive 11,650 Swiss francs from the City of Geneva to start a human rights project, along with a travel grant
The award is usually given by a jury composed of a network of 10 prestigious international NGOs and seeks to offer protection and support to human rights defenders at risk.