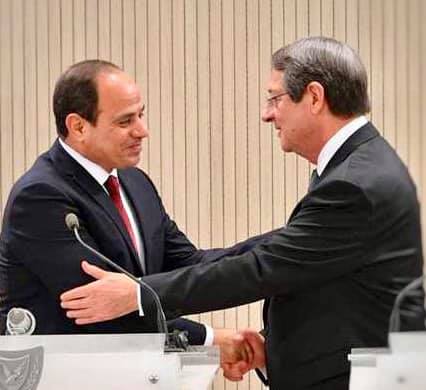 A joint high committee between Egypt and Cyprus will be held at the headquarters of the Egyptian Presidency at the Ettihadeya Palace on Saturday morning, headed by the Egyptian President Abdel Fattah al-Sisi and Cypriot President Nicos Anastasiades, with the participation of concerned ministers and delegations from both countries.
Egyptian presidential spokesperson Bassam Rady said that the governmental supreme committee, being held for the first time at the presidential level, will address several important aspects of bilateral relations between the two countries particularly in defense, military cooperation, security, energy, trade, investment, maritime transport, agriculture, education, environment, and youth issues.
Saturday's high-level meetings also affirm the shared desire of both nations to strengthen traditional cooperation between them and push it to new areas, Rady added.
He explained that the summit will discuss political developments regionally, in the eastern Mediterranean and internationally due to common challenges facing the two countries which require intensified coordination between Egypt and Cyprus to ensure security, stability and peace.