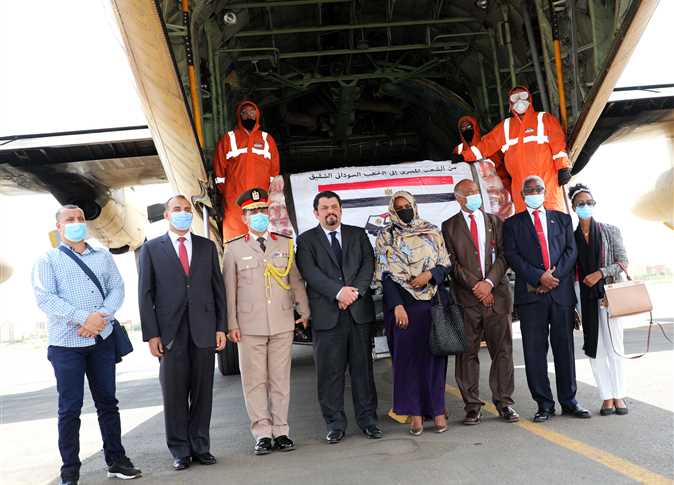 Egypt sent two planes carrying roughly 23.5 tons of humanitarian aid to support flood relief efforts in Sudan.
The planes arrived Sunday morning at the Khartoum International Airport.
The Sudanese News Agency "SUNA" reported that the Sudanese Minister of Labor and Social Development Lena al-Sheikh, the Sudan Humanitarian Aid Commissioner, Abbas Fadlallah, and the Egyptian Deputy Ambassador in Khartoum Nader Zaki, received the two planes at the airport.
The Sudanese Minister thanked Egypt for the first two planes of aid and its quick response after the Sudanese government declared a state of emergency to confront the floods in the country.
Sheikh indicated that this Egyptian aid confirms the depth of relations between the two countries, showcasing the bonds of fraternity and friendship between them.
The Sudanese Humanitarian Aid Commissioner Abbas Fadlallah also affirmed the eternal ties between Sudan and Egypt.
He thanked the Egyptian government and its people for their response and pointed out that this is the first aid to arrive since Sudan declared its state of emergency.
Zaki said that Egyptian President Abdel Fattah al-Sisi ordered to fly aid aircraft to Sudan to provide relief to all those affected by the floods.
These planes are the first step of a batch of aid, he said, with more expected to come.
Sudan's Security and Defense Council on Friday declared a nationwide three-month state of emergency over the country's flooding, Sudan's Sovereign Council announced in a statement Saturday.
Following a meeting late Friday, chaired by Sovereign Council Chairman Abdel Fattah al-Burhan, the council instructed the formation of a higher committee to ward off the impact of the floods.
So far 99 people have been killed and 46 others injured due to the heavy rains this year with over 100,000 houses collapsed, it noted.
Sudan's Irrigation and Water Resources Ministry earlier said that the Nile River has registered unprecedented levels at most of the upper sources.
President Sisi said Saturday that his country is always ready to support Sudan, especially regarding the heavy losses it is facing due to flooding across the country.
In a post on his Facebook page, Sisi declared his solidarity with Sudan's government and people.
"My sincerest solidarity to our Sudanese brothers, the government and people, as a result of the torrents and floods sweeping across Sudan which led to tragic losses in people and property," he wrote.
"I affirm Egypt's permanent readiness to provide all means of support to our Sudanese brothers in this delicate period to deal with the effects of the floods," Sisi added.
Edited translation from Al-Masry Al-Youm