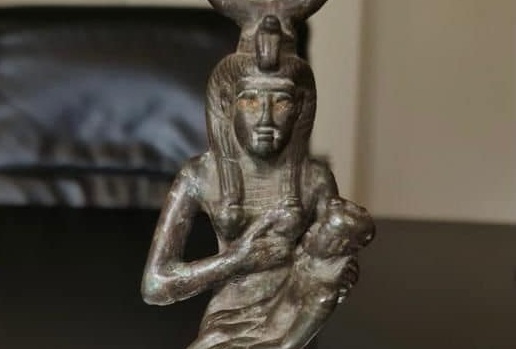 Egypt's ambassador to the Swiss Confederation, Wael Gad, received, on Tuesday, an antique bronze statue of the goddess Isis, carrying the child Horus, dating back to the late period of the ancient Egyptian civilization.
The Egyptian Foreign Ministry said that Egypt attaches utmost importance to the recovery of smuggled Egyptian antiquities and their return to the homeland, through its embassies abroad in cooperation with the Ministry of Tourism and Antiquities.
In August of last year, the Egyptian Embassy in Switzerland received seven artifacts belonging to the ancient Egyptian civilization, including: a part of a statue of a lady made of alabaster, a stone piece with a carving representing a part of the god Bes, a cover for a canopic jar of stone shaped like a human figure, a stone Sphinx, a stone panel with inscriptions representing some characters and writings, and a cylindrical alabaster vase.