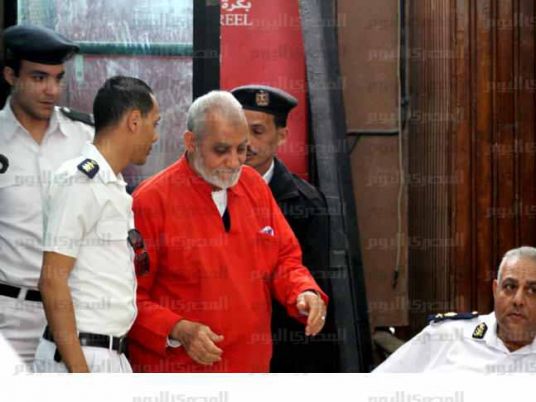 Egypt's Court of Cassation on Saturday upheld a previous court ruling sentencing the Supreme Guide of the Muslim Brotherhood group Mohamed Badie to lifetime imprisonment in the case known as the "Rabaa Operations Room."
Cairo Criminal Court convicted Badie along with 17 others in the case on May 2017.
Badie and two others were sentenced to lifetime imprisonment, while 15 others have been sentenced to five years each.
The defendants faced charges of spreading chaos in the country after the dispersal of the 2013 sit-ins at the Rabaa and Nahda squares, which were staged by Muslim Brotherhood supporters against the disposal of the Islamist president Mohamed Morsi.
Defendants were charged with running an operations room to direct the Muslim Brotherhood group to resist the authorities during the Rabaa al-Adaweya sit-in dispersal.
They were also accused of "spreading chaos" following Rabaa's dispersal and attempting to break into and set ablaze police stations, private property and churches.
The dispersal of Rabaa al-Adaweya and Nahda square in Giza took place in August 2013.
The encampments were in support of the democratically elected former president Mohamed Morsi who was ousted by the military in July 2013 after mass protests against his one-year rule.
Egypt declared the Brotherhood a terrorist organization in December 2013.
The semi-state backed National Council for Human Rights said in March 2014 that the death toll of the Rabaa and Nahda dispersal was 632, including eight security personnel.
Edited translation from Al-Masry Al-Youm