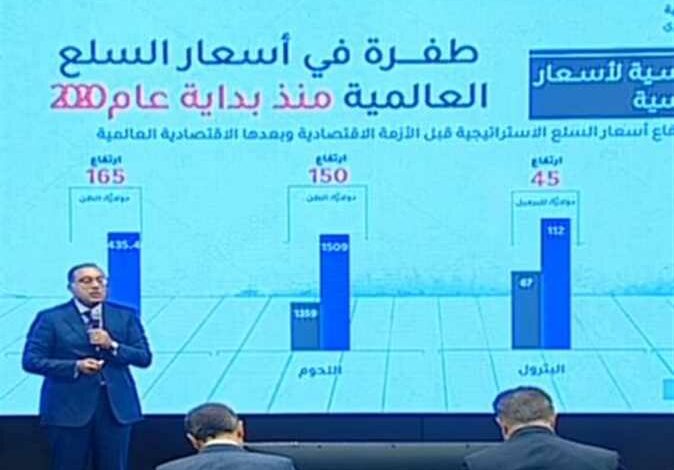 Egyptian Prime Minister Mostafa Madbouly announced Sunday that the government's measures to deal with the global economic crisis include strengthening the role of the private sector, localizing strategic industries, activating the Egyptian Stock Exchange and providing commodities.
His statements were made during a press conference to announce the state's plan to deal with the global economic crisis, as commissioned by Egyptian President Abdel Fattah al-Sisi, especially since the crisis is expected to last longer than expected.
The Prime Minister explained that foreign direct investments decreased due to the global economic crisis and as a result of the Russian-Ukrainian crisis, and that public debt worldwide is rising by 351 percent.
Madbouly said that many countries have begun to increase interest rates, and that the International Monetary Fund has lowered its growth forecasts for 143 countries.
The government seeks to raise the participation of the private sector in the coming years by 65 percent of the total implemented investments, he added, and that it will launch a package of various decisions to involve the private sector and solve its problems.
"We will announce the state ownership policies document, which will say the state's activities with its institutions, and which state institutions will it exit from within three years," he said.
He added that "There are sectors from which the state will exit within three years, and other sectors that the state will continue with, but with a decrease in its percentage, and there are other sectors that the state must continue with because they are pivotal and pertain to the state."
Madbouly said that the government would work to "allow the private sector to participate in some of state assets."
He announced that a unit would be established in the Cabinet under his direct supervision, whose mission will be to work on quickly solving investors' problems, so that a maximum limit would be set for the issuing approvals from ministries and relevant authorities on investment projects and various licenses, saying: "we will not allow any delay in issuing these approvals."
Madbouly stressed that the state is moving towards localizing some national industries, noting that the state has a plan to reduce the external debt within four years.
The project to reclaim and increase the agricultural area in Toshka, Sharq al-Owainat, the New Delta, Sinai and western Minya "enabled us to increase the agricultural area, and thus increase the area planted with wheat," he noted.
He added that this year, for the first time in Egypt's history, "We are expected to reach a production of 10 million tons of wheat, an increase of one million tons over last year."
Egypt is one of the candidate countries to be a very large center for the production of future energy from green hydrogen and green ammonia, Madbouly said, noting this type of project will be added to the package of projects that enjoy additional new incentives during the coming period.