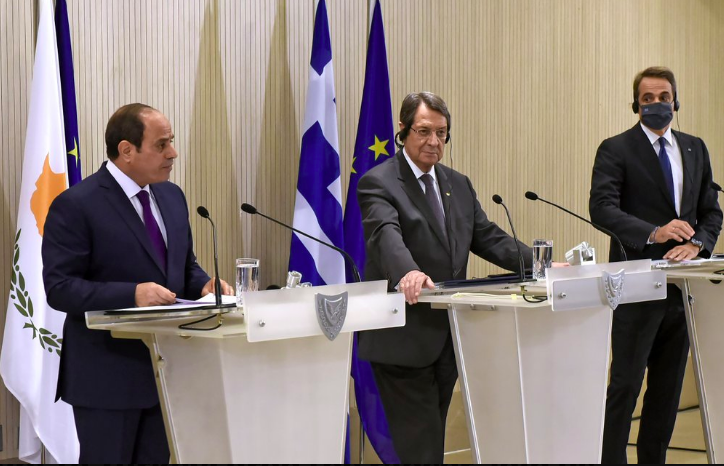 Egypt and Greece on Monday rejected the signing of the unity government in Libya, based on two memoranda of understanding formulated by Turkey in the field of hydrocarbon resources to carry out exploration for gas and oil.
In a statement, the Egyptian Foreign Ministry said that Minister Sameh Shoukry and his Greek counterpart Nikos Dendias confirmed that the outgoing unity government in Tripoli does not have the authority to sign any international agreements or memoranda of understanding.
In a press conference with his Libyan counterpart Najla Mangoush, Turkish Foreign Minister Mevlüt Çavuşoğlu said during the signing of the MoUs: "The hydrocarbons agreement just signed aims to establish cooperation between Turkish and Libyan companies in exploration, based on the concept of mutual profit on land and at sea."
Longstanding dispute
The dispute between Egypt, Greece, and Turkey dates back to November 2018, when Ankara signed a maritime agreement with the former Libyan Government of National Accord.
Practically, the new agreement will open up more areas for Turkey to explore for energy in the Mediterranean, in areas that Greece and Cyprus mentioned as belonging to them.
Egypt previously described the deal as "illegal".
On Monday Çavuşoğlu said, "There may be a misunderstanding regarding the maritime jurisdiction agreement. This is an agreement signed between two sovereign countries and is valid."
"Moreover, Turkey and Libya informed the UN of signing the agreement, and we registered the boundaries of our continental shelf with the UN, and now Libya must determine its continental shelf and its maritime jurisdiction areas and register it with the UN."
The signing of the two memoranda of understanding between Ankara and Tripoli coincides with tension between Egypt and the unity government in Libya, despite a period of calm and rapprochement between the two sides in recent months.
Turkey has gained great weight with the ruling forces in western Libya since its military support for the Government of National Accord (GNA) in repelling the attack of the commander of eastern Libyan forces, retired General Khalifa Haftar, on the capital, Tripoli in 2019.