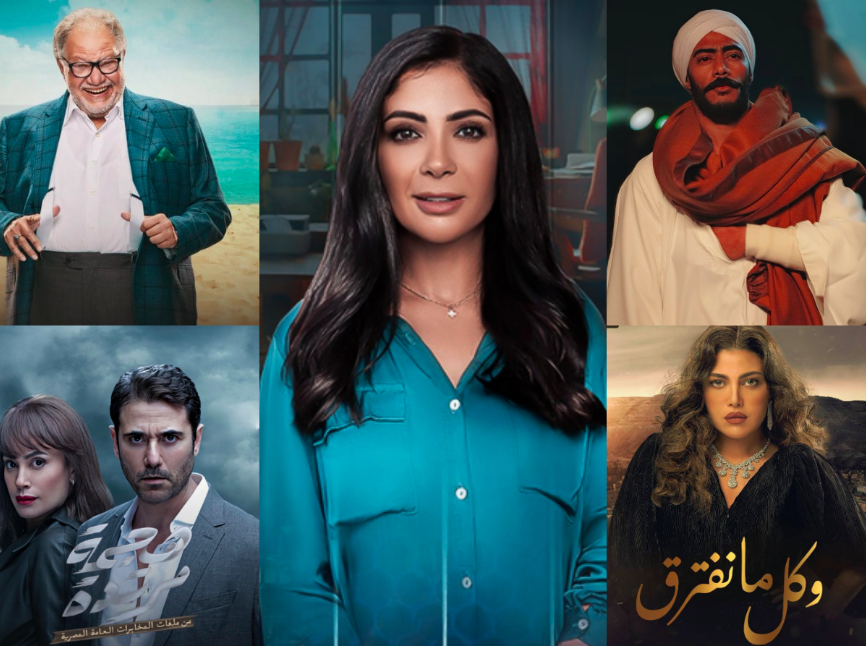 Tuesday witnessed not only the beginning of Ramadan, but also the beginning of the numerous beloved Ramadan TV series that so many tune in to each night after iftar.
Timings for the 2021 Ramadan series on Egypt's DMC channel are as follows:
1-"Moussa"
This drama set in Upper Egypt will play at 6:30 pm, 11:30 pm, and 11:00 am each day.
"Moussa" is starring Mohamed Ramadan, Sumaya al-Khashab, Abeer Sabry, Riad al-Khouly, Sayed Ragab, Sabry Fawaz, Munzer Rayahneh, Heba Magdy, Farida Seif al-Nasr, Arifa Abdel Rasoul, Amir Salah Eddin, Diaa Abdel Khaleq and a number of other artists, written by Nasser Abdel Rahman, directed by Mohamed Salama and produced by Synergy Company. 
2- "Hagma Mortadda"
"Hagma Mortadda" is shown exclusively on DMC. It will be presented at 10:15 pm, and it will be repeated the next day at 2:00 pm.
It is starring Ahmed Ezz, Hind Sabry, Magda Zaki, Hisham Selim, Nidal al-Shafei. Salah Abdallah, Nada Moussa, Mahmoud al-Bazawy, Mohamed Adel, Khaled Anwar, Nour Mahmoud, Mohamed Gomaa, Fedra, Ahmed Fouad Salim, Youssef Othman, Hagar al-Sharnouby, Mayan al-Sayed, Shamm al-Hassan, Lashina Lashin, Ali Qandil.
It is written by Baher Dewidar and directed by Ahmed Alaa al-Deeb.
3- "Le'bet Newton"
"Le'bet Newton" is also a DMC exclusive, airing at 7:45 pm, and replaying at 2 am and 10 am.
The series is starring Mona Zaki, Mohamed Farrag, Mohamed Mamdouh, Sayed Ragab Mohamed al-Tagy, Mayan al-Sayed, and Hanan Youssef. It is written and directed by Tamer Mohsen, and produced by Media Hub – Saady Gohar.
4-"Naguib Zahi Zarkash"
This show will play nightly at 9 pm and replay at 5:30 am and 1 pm each day. 
"Naguib Zahi Zarkash" is starring Yahya al-Fakharany, and co-starring Anushka, Noha Abdeen, Sherine, Hala Fakher, Islam Ibrahim, Karim Afify, Ramez Amir, Rana Rais, Mohamed Yousry, Mohamed Mahmoud, Hanan Suleiman, Fattouh Ahmed, Mohamed al-Sawy, and Tamim Abdo. It is written by Abdel Rahim Kamal, directed by Shady al-Fakhrany.
5- "W Kol Ma Neftere"
"W Kol Ma Neftere" will be shown at 12:30 am and repeated at 6:30 am.
It is starring Reham Haggag, and co-starring Ahmed Fahmy, Ayten Amer, Rania Youssef, Salwa Khattab, Mohamed al-Sharnouby, Tarek Abdel Aziz, Ahmed Siyam, and Rehab al-Gamal. The story of is written by Amin Rady, screenplay and dialogue by Ahmed Wael and Yasser Abdel Maged. It is produced jointly between United Media Services and Tarek al-Ganayny.
MBC Masr, CBC, and ON E also announced their Ramadan series schedules this week.