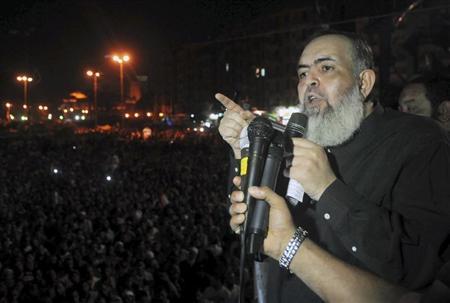 Cairo Criminal Court will resume the trial of Salafi Preacher Hazem Salah Abu Ismail on Thursday at the Police Institute.
Salah is charged with having forged his mother's nationality so that he would be eligible to run in previous presidential elections.
The prosecution accused Abu Ismail in March 2012. It was later proved that his mother obtained US citizenship.
Hazem's supporters have formed the "Hazemoun" movement, two members of which were arrested in December 2012 in a 2am police raid after an attack on the liberal Wafd Party headquarters, according to the state-run newspaper, Al-Ahram. The interior ministry said one of the detained members, Ahmed Arafa, was arrested for possessing an illegal automatic weapon.
Abu Ismail instructed his followers to not respond to the arrest, according to Al-Ahram.
Arafa was sentenced to life imprisonment, or 25 years, in absentia in May. A re-trial on Wednesday after Arafa's appeal confirmed the verdict.
Abu Ismail had previously been detained over investigations of inciting violence between supporters and opponents of toppled President Mohamed Morsy after the Islamist leader was removed by the army in July.