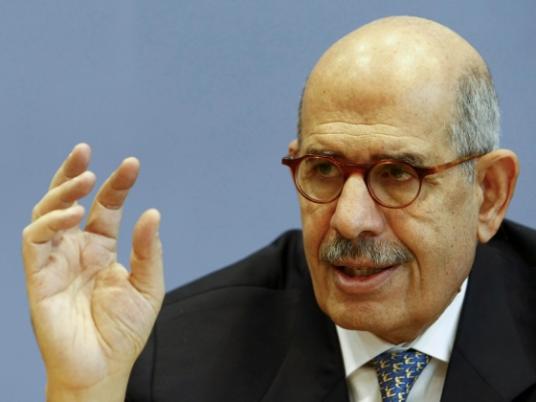 The banned Muslim Brotherhood group is seeking to use a statement made by former vice president Mohamed ElBaradei to sue Egyptian officials behind the dispersal of sit-ins against the ouster of former President Mohamed Morsi in 2013.
The privately-owned Shorouk newspaper reported on Sunday that the administrative bureau of the group in Turkey welcomed Baradei's statement on the Rabaa square sit-in dispersal.
The head of the group's administrative bureau Ahmed Abdel Rahman, who resides in Turkey, said he tasked the group's attorney in London with contacting ElBaradei.
The Brotherhood attorney will demand ElBaradei's testimony on the incidents that followed the ouster of Morsi, to be added to the cases they filed before international and European courts against those who granted the green light to disperse the sit-ins, Rahman said.
Shorouk newspaper added that a leading figure within the group said that communication with Baradei will be at the legal level, not through political figures.
ElBaradei held the post of Vice President for Foreign Affairs until August 2013, when he resigned in protest against the forced dispersal of pro-ousted-Morsi demonstrators at the Rabaa and Nahda square sit-ins.
Since that time, he has been targeted by attacks of media figures against the decision.
The former vice president published a statement on Tuesday denouncing media claims and clarifying his stance on the June 30 protests and the developments that ensued in their aftermath.
ElBaradei opposed the dispersal, arguing that there were "almost agreed-upon political solutions" on the table that could have served as an alternative to a "spiral of violence and division."
ElBaradei headed the International Atomic Energy Agency (IAEA) from December 1997 until November 2009.
He was awarded the Nobel peace prize, jointly with the IAEA, "for their efforts to prevent nuclear energy from being used for military purposes and to ensure that nuclear energy for peaceful purposes is used in the safest possible way."