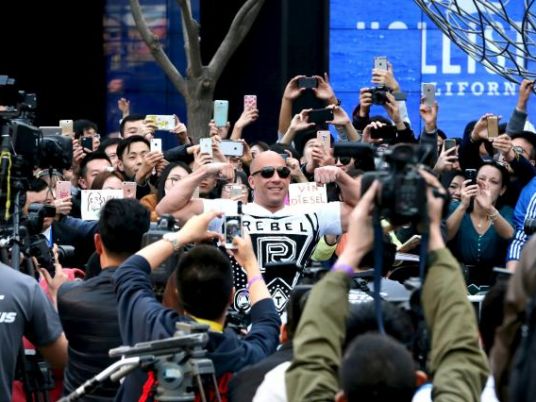 Nothing, it seems, and certainly not Blake Lively, can get "Furious 7" to slam on the brakes.
The mega-grossing sequel took the top spot at the weekend box office with $18.2 million, becoming the first film to come in first for four consecutive weekends since "The Hunger Games" in March of 2012. "Furious 7" is one of only 29 films to pull off the feat. Its winning streak will almost certainly draw to a close next weekend when "Avengers: Age of Ultron" enjoys what most analysts project will be an opening of more than $200 million. Domestically, "Furious 7" has earned $320.5 million.
Although it could not elbow "Furious 7" from its perch atop the box office chart, Lively's fantasy romance "Age of Adaline" scored a respectable $13.4 million from 2,991 locations. The Lionsgate/Lakeshore release had been projected to pull in $12 million and cost $30 million to produce. The two partners split the costs and any profits evenly between themselves.
Reviews for "Age of Adaline" were mixed, but the picture still managed to secure a third-place finish primarily by appealing to females, who comprised 75% of the opening weekend crowd. Fifty eight percent of ticket buyers were over 25. The film co-stars Ellen Burstyn and Harrison Ford in the story of a woman who suffers an accident that keeps her perpetually 29 years old.
"Our audience will remain loyal to the film," said Fay. "The great news is that movies play to female audiences, particularly older female audiences, hang around in the marketplace for a long time."
Despite pot shots from Seth MacFarlane and critics, Sony's "Paul Blart: Mall Cop 2" held up better than many analysts projected, finishing second in its sophomore weekend with around $15.5 million. The comedy has earned a solid $44 million though Sunday, topping its $30 million production budget.
"It's such a sweet hold when you only drop 35% on a film in its second week," said Rory Bruer, Sony's distribution chief. "It shows the mettle of the picture. Families and young teens are really really embracing the movie."
Animated hit "Home" scored fourth place with $8.4 million pushing its haul to $153.8 million, while "Unfriended" rounded out the top five with a $6.2 million finish, driving its stateside total to $25.2 million
"Ex Machina" solidified its place among the year's biggest specialty hits, expanding from 39 to 1,255 screens and earning $5.4 million in the process. The A24 release has made $6.9 million in three weeks.
Among new releases, Open Road's "Little Boy" pulled in $2.8 million from 1,045 locations, while Russell Crowe's directorial debut "The Water Diviner" bowed to $1.2 million from 320 theaters. Warner Bros. is distributing "The Water Diviner" and doesn't plan to expand the theater count beyond its current number for the foreseeable future.
"This was always supposed to be a small niche film, so our plan is to just go slowly," said Jeff Goldstein, Warner Bros. distribution executive vice president.
Next weekend, all of these films will be overshadowed by the return of Earth's Mightiest Heroes, when "Avengers:Age of Ultron" debuts and kicks the summer box office off on a high note.