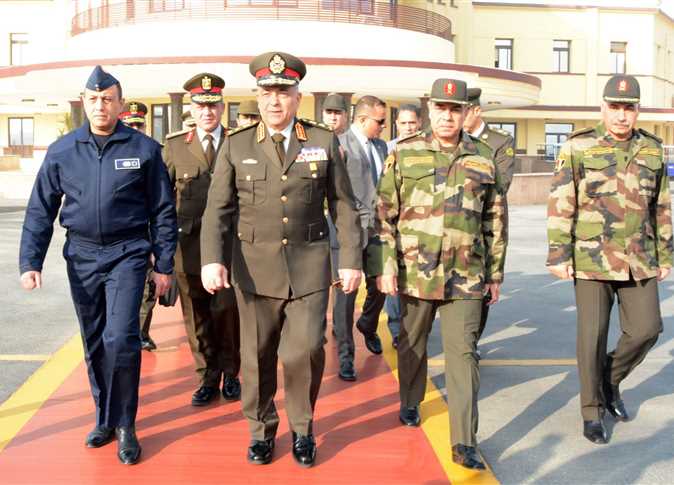 Egypt's Supreme Command of the Armed Forces are taking all measures in coordination with the Interior Ministry to secure the New Year's celebrations in all governorates, in accordance with the directives of President Abdel Fattah al-Sisi, a statement by the armed forces said.
This comes at a time when the field armies are preparing to deploy in the vicinity of places of worship and vital installations, after receiving the necessary training on how to deal with the different situations that may disrupt the celebrations, according to the statement.
Special Operations Forces units have been also prepared to cooperate with the other tactical formations in the security of the celebrations, as well as rapid intervention units, which will be stationed at several points during the holiday celebrations to intervene if needed.
Military police and civilian police personnel will also conduct numerous mobile patrols.
Commander-in-Chief of the Armed Forces and Defense and Military Production Minister Mohamed Zaki has instructed army leaders to ensure that all participating forces are aware of their security tasks to address all threats and act in emergency situations in cooperation with the police forces.
He stressed the importance of securing the Suez Canal in order to prevent any possible smuggling attempts, according to the statement.
Earlier, Egypt's Interior Ministry issued a security alert for the ministry's departments in all governorates on the occasion of the Christmas and New Year's celebrations, the ministry announced on Friday.
The security alert initiates an intensification of security services at all vital and important institutions in order to provide a secure environment during the celebrations, the ministry added.
The ministry is also taking the necessary security measures in preparation for the Christmas celebrations, it said in a statement.
The Interior Ministry has also emphasized the good treatment of citizens during the implementation of the security plan, especially the elderly and people with special needs.
The ministry stressed that its efforts continue to provide a safe environment for citizens to enjoy the atmosphere of celebrations. It also called on everyone to follow security instructions for the smooth implementation of security plans with the utmost accuracy and proficiency.