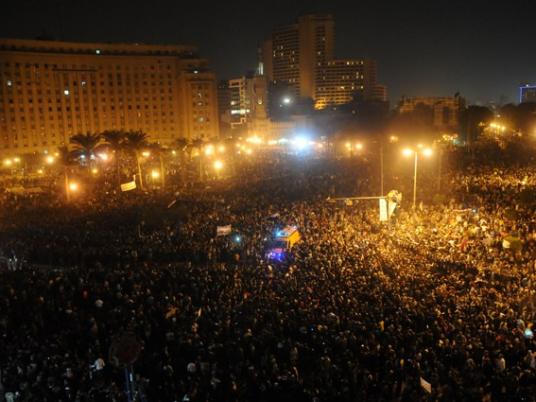 As the violent clashes that started Saturday morning in Tahrir Square continue into their fourth day, many previously apolitical Egyptians said they now feel obliged to participate in the proposed "million-man march" Tuesday in objection to military authority.
Several protesters in Tahrir Square Monday night said they had relatives who hadn't protested during the uprising who planned to go to the march Tuesday. Ahmed Massoud, a Maadi physician, was one of those relatives.
"I didn't attend the 18-day uprising, but I was happy when Mubarak stepped down and the army took over," Massoud said in a phone interview Monday. "But over the last months, I find people at odds with the military are getting closer to me, culminating in the injuries of my neighbors Sunday night, who I know are not thugs," referring to state media's previous depictions of protesters as thugs that the army is preventing from distracting Egypt's transition to democracy. "If they are thugs, then I'm next," he added.
Others who have seen photos and videos circulating on the internet that show groups of unmoving bodies, police smugly shooting a protester in the eye, and the army beating protesters unconscious, said they feel compelled to go to Tahrir to protest against army rule simply for humanitarian reasons.
"Violence makes it personal," said Leila al-Awady, a schoolteacher who also planned to join the protests. "Anybody attacking fellow Egyptians would be inclined to intervene somehow, but the fact that the army is involved in propagating and provoking the violence makes it not only personal but a responsibility as a fellow Egyptian."
Activists from the No to Military Trials Campaign confirmed Monday night that crowds are growing in numbers as many are aligning with anti-military sentiment, which might not necessarily be to bring down Egypt's ruling Supreme Council of the Armed Forces (SCAF), but certainly to object the recent violence.
"People were being held hostage by the army and state media, fearing that Egypt would end in chaos without the SCAF's authority," said Shahira Abouelleil, an activist from the group. "It's not their fault though. It is unfortunate that virginity tests, military trials, torture and murder is what it took, but at least they see through it now. Involvement is essential, as its for the benefit of all Egyptians, not our group."
Said Sadek, a professor of political sociology at the American University in Cairo, said that the accumulation of recent events like Maspero, culminating in the level of brutality currently witnessed in Tahrir, has unavoidably revealed the flaws and propaganda of SCAF statements and the state media, leading to an unfolding distrust of the military.
"Many people are now able to see clearly that these are not outside forces trying to ruin Egypt, nor are they thugs trying to prevent democracy," Sadek said. "Thugs who take money to incite violence and prevent democracy wouldn't be writing their numbers on their arms for identification knowing that they would probably die.
"Pictures and videos of people they can relate to being killed in Tahrir also makes it very difficult for one to maintain an apolitical attitude toward the military," he added.
But despite the growing numbers in Tahrir since Saturday, others still remained skeptical that street protests hold any further potential in building Egypt's future. One lawyer, Khaled Aziz, said that although people may be becoming aware that they are illegitimate, Egyptians need to begin the electoral path regardless in order to give rise to popular leadership, and that going to the street is expensive as it costs money and lives.
Abouellail, however, said this is exactly the reason why people are going to the streets, as the SCAF, which also recently publicized its intentions toward supra-constitutional rights, can no longer be trusted to govern the current transition to democracy.
"The SCAF is now reaping the fruits of their labor," said Abouellail. "In past months they have escalated situations by murdering protesters and putting thousands under military trial. It's time they pay the price for these crimes, and the people coming to Tahrir in support will be the jury."