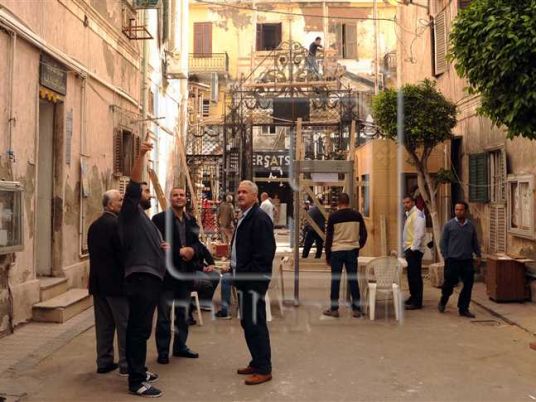 Dozens of laborers took part in the renovation of St Mark's Coptic Orthodox Cathedral in Alexandria and the adjacent shops on Thursday morning, following the damage caused by the bombing on Palm Sunday.
Al-Masry Al-Youm noted ongoing renovation work on the street facing the cathedral as well, where armored military vehicles are stationed. The road will be closed until renovations are complete.
A senior Armed Forces official at the site told Al-Masry Al-Youm that the construction work is carried out under the full supervision of the army, which is covering the expenses for the church's reconstruction, namely the cost of repairing the main gate, the security office, the library and the cathedral's kindergarten.
Construction of the surrounding area, including damaged shops and the main gate, will be concluded on Thursday evening so that Copts can celebrate Maundy Thursday and Good Friday without any hindrances, the army official added.
A number of shop owners in front of the cathedral confirmed that the army will bear the cost of restoring the shops to the condition they were in before the bombing.
A source in the cathedral told Al-Masry Al-Youm that repairs of some facilities affected by explosion, such as the nursery and the library, have already been completed, so there is no need to charge the army any additional costs.
The source added that shockwaves from the explosion hit the main gate as well as the library adjacent to the gate and the security office, in addition to the glass doors on the upper floors of the building.
Edited translation from Al-Masry Al-Youm