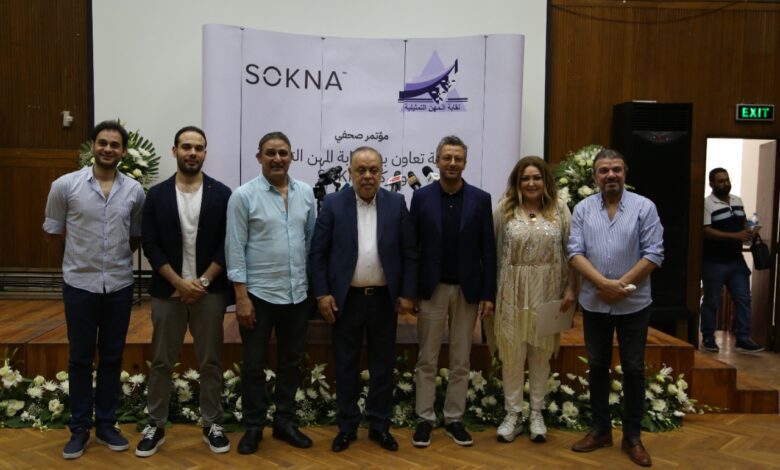 The Egyptian Acting Professions Syndicate, headed by Ashraf Zaky, signed a partnership agreement with SOKNA, which provides comprehensive funeral services to honor deaths and facilitate procedures for their families, to be the exclusive provider of comprehensive funeral services to honor late syndicate members.
SOKNA will work to provide all necessary services to syndicate members, including assistance in obtaining a burial permit and official papers, preparing the deceased's body for burial, preparing cemeteries, transporting the deceased, booking funeral halls, publishing obituaries, returning the deceased's body to the homeland if they have been abroad at the time of death, advance planning for death, and other services.
SOKNA will also customize the needs to accommodate what is required to properly handle funerals, including providing a high quality service and a high level of organization as well as fully equipped SOKNA vehicles and a highly skilled trained team.
"We are proud to partner with SOKNA and to offer all the benefits of its services to syndicate members," Zaky said.
"We and SOKNA share the same vision regarding the importance of honoring the deceased, and making the whole process as smooth and hassle-free as possible for families and loved ones, and no one does it better than the SOKNA team."
"SOKNA's professionalism and attention to detail are unparalleled, and the fantastic level of service provided by the company has been proven in several occasions," said actress Nihal Anbar, Medical File Officer for the Syndicate of Representative Professions.
This was especially evident at the funerals of many great artists such as Samir Sabry, Suhair al-Bably, Aida Abdel Aziz, Galal Fahmy, Zaki Fateen Abdel Wahab and many other icons that SOKNA helped the syndicate honor, she said.
"We are happy and proud to sign this partnership with the Acting Professions Syndicate. We seek to provide an honorable service to the members of the Syndicate, taking into account the special needs and requirements of artists and public figures, such as the high level of organization and competency of our team, and the safety and comfort of family, friends and all attendees," founder and CEO of SOKNA Ahmed Gaballah, said.
"Our mission at SOKNA is to honor loved ones we have lost while making sure that the family is not exhausted in any logistical effort when dealing with the death, so we launched a pre-planning program where people can decide what kind of service they want to receive, so families can focus on the memories and legacy of loved ones."
Since launching SOKNA in 2020, the company signed many partnerships with more than 20 hospitals and companies in Greater Cairo, collaborated with more than 70 service providers and conducted more than 3,000 funerals.
The company's mission is to take care of every logistical detail from the moment of death, with expertise and compassion, giving family members peace of mind to focus on what matters most and say goodbye to loved ones.